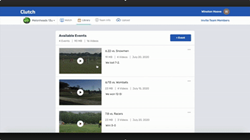 ClutchFilm's easy to use game film platform is free for coaches and will change the way that youth sports of all levels film, store, and distribute footage from their athletic events.
SEATTLE (PRWEB) August 27, 2020
Clutch launches today to provide youth and high school coaches a free platform to host, analyze, and share their game film. Backed by ComcastNBCUNiversal's The FARM accelerator, the new platform provides free unlimited video hosting for coaches. Clutch is also giving players and their families free access to the platform through the end of 2020. To take advantage of this free platform, sign up today at clutchfilm.com.
Youth sports are more expensive now than ever before--rising costs of travel, equipment, training, and even software is taking a toll on clubs and high schools. Thanks to its breakthrough technology, Clutch is reversing that pattern by allowing coaches to host their practice, game, and scout videos for free. With Clutch, coaches can rewatch film and communicate with players to take advantage of coaching opportunities on video. Players and their families are welcome too--they can clip, store, and share personal highlights.
"Game film shouldn't be exclusively about x's and o's--it should provide coaching strategy and team engagement. Players should be able to improve their game and share their memorable moments with grandma." said Clutch Co-Founder Nick Busto.
The Clutch team has been honing their technology for years, but they faced an interesting decision when COVID-19 hit this Spring--delay launch until sports return to 'normal' or release the product with a lot of remaining unknowns. They decided to lean in to the uncertainty and provide all users free, unlimited access through the rest of 2020. Clutch will always be free for coaches--but this decision gives players and their families unrestricted access to playback, sharing, and highlight features as well, a feature set that will cost $5/mo in 2021.
"Fall sports look different for everyone right now," said Busto, "so we wanted to make sure that every team can engage with Clutch, whether you're back on the field or at home rewatching last year's games."
One of Clutch's largest differentiators is the technology behind the platform that allows Clutch to provide these services at an affordable price point when the competition can cost $500-$2,000 per season. CTO Ben Swinford explains, "We've been working in the sports video space for a long time and have developed a solution to host and deliver video for less than 1% the cost of AWS. Coaches using other softwares were complaining to us all the time about price increases when they would pass 15 or 30 GB of video, so we decided to shake things up and make video hosting free altogether." This revolutionary approach to storage and distribution coupled with Clutch's easy to use and intuitive platform makes it a game changer for youth and high school sports.
Clutch is available for free at clutchfilm.com. Create your account today and get started in under 2 minutes.
About Clutch
Clutch creates simple, affordable sports video solutions for youth and high school sports teams. Ian Woodward Smith, Ben Swinford, and Nick Busto created the company to address the increased costs of software and increased complaints from coaches in the youth sports world. The team has over 20 years of experience in the sports technology industry collectively.