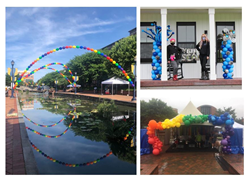 "This small token of appreciation I can offer the world with this labor of love for my community is rewarding in indescribable ways." - Caity Byrne, Owner, Frederick Balloon Co.
FREDERICK, Md. (PRWEB) May 28, 2020
Caity Byrne, award-winning balloon artist and owner of Frederick Balloon Co., is on a mission to spread hope throughout her community- with balloons.
When the global pandemic left the world in an uncertain state, Byrne turned to the best cure she knows- balloons. This year, Frederick County's public school system won't hold the ceremony hundreds of students and parents have looked forward to for years. They won't have the large party celebrating their milestone achievement. But that doesn't mean they can't have a great photo to mark the momentous occasion of graduating, whether from college or high school. On Sunday, May 31, they can do it free of charge.
This weekend The Frederick Balloon Company will install an arch at the suspension bridge along Carroll Creek. The 50-foot balloon structure will offer graduates and their families a chance for a picture paying homage to their achievement in 2020 while maintaining a social distance and enjoying a re-emerging downtown Frederick.
With over a decade of experience in large-scale balloon installations, putting together a display to encompass the many community students was an obvious choice.
"These students have worked so hard toward this achievement. For years, they have looked forward to a moment that won't happen in the way they envisioned. We wanted to give them a wow moment to remember," says Byrne. "Working with the Downtown Partnership and the Department of Parks and Recreation was an easy choice. This is our way of saying thank you to the community for their support of small businesses, and a true congratulations to students in the area."
Byrne is no stranger to decorating Carroll Creek. For years, her company has provided balloon décor at the annual Pride festival. In fact, her 2019 display won a coveted Floatee, a balloon industry award!
Byrne runs a balloon décor business based in Frederick, MD, and with her sole remaining staff member will build an arch encompassing hundreds of biodegradable latex balloons as well as 4-foot foil numbers and graduation elements. Caity has been a Certified Balloon Artist since 2013, and has decorated at the White House twice. She has also taught at numerous industry conventions.
"This small token of appreciation I can offer the world with this labor of love for my community is rewarding in indescribable ways. It's sustenance for my mind, body and artistic spirit."
About Caity Byrne and Frederick Balloon Co.
Caity, a Frederick resident, discovered her passion for decorating events with balloons nearly a decade ago, when she founded Beltway Balloons, a regional supplier serving corporations, nonprofits, associations and government agencies throughout the Greater Washington, DC, area.
Since that time, she's earned professional certification and training in balloon architecture, materials, manufacturing, design, delivery, and display. She has been sponsored to teach other balloon professionals around the country.
You could say she's passionate about balloons!
Caity launched Frederick Balloon Co. to fill pressing need in Frederick County for a balloon décor provider serious about innovative and elegant experiences—the kind that deliver results. From bouquets to large-scale installations, Frederick Balloon Co is here for their community.