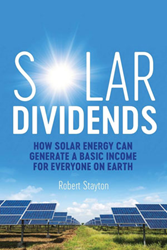 "A thought-provoking idea if ever there was one!" – Bill McKibben
SANTA CRUZ, Calif. (PRWEB) September 23, 2019
A new book introduces the idea of generating money from solar energy to pay for universal basic incomes instead of using tax money. The plan proposes to set up a section of solar panels for each individual on a local community solar farm, sell the electricity the panels generate, and deliver the money as "solar dividends" to the individual, for life. Such a program would create a new motivation to install more solar power to slow down climate change.

The solar panels pay for themselves through the money they earn by generating electricity.
The money won't run out because the panels would be maintained and replaced as needed.
No international treaty is needed because every country receives enough raw solar energy to set up their own program.
The book "Solar Dividends: How Solar Energy Can Generate a Basic Income For Everyone on Earth" combines two big ideas—solar energy and basic incomes—to accomplish multiple goals: lift everyone out of economic insecurity, reduce the carbon emissions that drive climate change, and assemble a clean energy system that can sustain human society into the future. What's the catch? We all pay higher utility bills, but the book describes why that isn't such a bad thing, and how every individual will have a large net benefit despite the higher bills.
This plan contrasts with presidential candidate Andrew Yang's proposal for Freedom Dividends, which calls for new taxes to pay for basic incomes. Instead, investments in revenue-generating solar panels would supply the funds, investments that are also good for the environment.
"A thought-provoking idea if ever there was one!" says Bill McKibben, author "The End of Nature".
The author describes how solar energy gives society a unique opportunity to correct the inequality imposed by an unequal distribution of fossil fuel wealth by making sure everyone has a stake in the emerging solar energy production system. "There are not enough oil wells to go around, but there is enough sunshine for everyone" he says. Although utopian in scope, the author provides numbers to back up his ambitious plans.
More information, reviews, and ordering information can be found on the book's website http://solardividends.org.
About the author
Robert Stayton is a solar innovator and educator with degrees in physics and science communication. His previous book "Power Shift" won multiple book awards and serves as a college textbook on energy. He has lived in an off-grid solar home for twenty years.