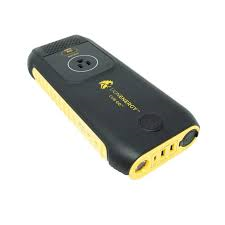 "We live in a different world now, and our products can help others feel safe and keep them going with portable power. We see so many doing their part to keep us safe and keep us going and we want to give back to them."
AMERICAN FORK, Utah (PRWEB) May 13, 2020
Today, Lion Energy announced that for each purchase of a Lion Cub GO portable power unit online at http://www.lionenergy.com they will donate a second unit for free. The second unit is added if the buyer designates a specific person who is working on the frontlines of the COVID-19 pandemic—which includes medical workers, teachers, food supply chain, etc. The initiative aims to give back to those that are tirelessly working to keep us safe. The Lion Energy effort will run from May 9th to June 9th.
The Lion Cub GO is a portable power bank that can recharge USB and AC devices like cell phones, tablets, TV, laptops, lights and many other devices needed to feel safe, be connected and communicate with each other. And Cub GO can be recharged by the sun using a small solar panel.
Covid-19 has created an environment in which consumers are required to be more self-sufficient. The way we consume power is a big part of that, and Lion Energy's breakthrough technology in renewable portal power has seen a massive increase in demand over the last few months.
Lion Energy VP of Marketing, Shaun Stirland, said "We live in a different world now, and our products can help others feel safe and keep them going with portable power. We see so many doing their part to keep us safe and keep us going and we want to give back to them."
###
Lion Energy - Power your life. In 2001, Frank Davis initially started this venture to help people prepare for potential emergencies. He soon realized he could help in other areas of preparedness such as water, lights, and power. In 2014, our passion for portable power ignited. We wanted to provide the safest, most reliable, silent portable power products that were clean and renewable. Our goal is to create products that are good for people and good for our planet.
As we forge ahead, the foundations of customer experience, safety, reliability and innovative renewability remain. We are committed to a continued focus on providing the best emergency preparedness power, portable solar power, and home storage power. Lion Energy is committed to providing our customers peace of mind and the freedom to live life on their terms.
To learn more, visit http://www.lionenergy.com or watch video here