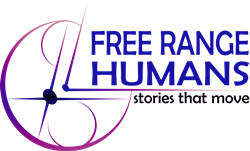 "Partnership is the heart of both of these venues," says Producing Artistic Director Elizabeth Lucas. "Free Range Humans will occupy maybe a third of the programming, with a third reserved for partnerships with other quality Frederick County arts organizations and another third for local artists..."
FREDERICK, Md. (PRWEB) May 21, 2021
Free Range Humans, lauded for their 2019 immersive production of JEKYLL & HYDE in an historic downtown Frederick church, returns to producing post-pandemic with a summer season of four shows, both familiar favorites and new works. Free Range Humans is also providing two new venues for Frederick County performing artists and teachers, both at the Francis Scott Key Mall.
The season opens with a reprise of crowd favorite ALWAYS…PATSY CLINE, starring Shelly Lynn Walsh returning to her role as Patsy, with Rachel Lawhead playing her friend Louise. The show plays June 3-11 at the Baker Park Bandshell, and features a full band, a funny and moving story, and many of Patsy' unforgettable hits such as Crazy, I Fall to Pieces, Sweet Dreams and Walking After Midnight.
"This evening was a delightful, sentimental, and thrilling treat to experience the amazing music of the incomparable Patsy Cline...Having the gift of experiencing an intimate yet comprehensive journey through the life and music of one of the most tragic losses of a generation is priceless." - Mark Briner, Theatre Bloom Review of Free Range Humans' 2018 Production
WHITE RABBIT RED RABBIT, "a playful, enigmatic and haunting solo show" (New York Times) follows June 18-27 and will feature a different well-known personality at each performance. Forbidden to leave his country, playwright Nassim Soleimanpour distilled the experience of an entire generation into a wild, utterly original play about contemporary Iran and of Nassim's generation: computer-literate, well-informed young people who have never known an Iran other than the Islamic Republic.
On July 16-17, TRIANGLE launches The Field Performing Arts Center with a two-night concert performance of this original Broadway-bound mystery-romance with music by the songwriting team behind "The Marvelous Mrs. Maisel". Two love stories, set in the same New York City building but a hundred years apart, begin to weave together across the century as long buried secrets are uncovered and ghosts of the past begin to influence the future.
Lastly, in August, Free Range Humans presents INTO THE WOODS, a perennial favorite that resonates in a whole new way post-pandemic. Filled with favorite tunes, INTO THE WOODS turns fairy tales on their head in this show about a group of people whose lives are suddenly crushed, who have to decide how and with whom they will rebuild. The show runs August 3-16 at an outdoor location to be announced.
Free Range Kids & Teens opened in September and offers performing arts classes and shows for young artists ages 3-18. With classes ranging from traditional acting and musical theatre to DJ basics, stage combat, Dungeons & Dragons, costume design, and circus arts, Free Range Kids & Teens provides both a low-barrier, low-cost way for students to try different things in a supportive environment and also a venue for performing arts teachers and organizations to reach new audiences. Summer 2021 classes are on sale now.
The Field Performing Arts Center opens in July in the space formerly occupied by Shadowland. The venue will include a coffee shop in the lobby, meeting and rehearsal rooms, and a 4,000 square foot theatre and media production space. The venue will launch with a benefit concert of the musical TRIANGLE.
In August, The Field Center will host SPF 2021: Summer Play Festival. The festival will feature both student and adult performances in theatre and variety and will include juried prizes. Anyone is welcome to submit performance ideas. Students from the summer classes will present their showcases at this event as well.
"Partnership is the heart of both of these venues," says Producing Artistic Director Elizabeth Lucas. "Free Range Humans will occupy maybe a third of the programming, with a third reserved for partnerships with other quality Frederick County arts organizations and another third for local artists to try things in a supportive and low-barrier environment."
Partners include Theatricks Circus Arts, Benefactor Events, Revolution Dance, Unicorn Nature Creations, Epic Adventures, with many other partnerships in the works.
Tickets are on sale now for ALWAYS…PATSY CLINE, WHITE RABBIT RED RABBIT, TRIANGLE, and Free Range Kids & Teens summer classes at freerangeworld.com. Productions are directed by Producing Artistic Director Elizabeth Lucas and music directed by Marci Shegogue.