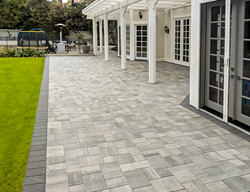 LOS ANGELES (PRWEB) March 17, 2020
If you live in the Los Angeles area and have been considering moving forward with a paving project such as building a paver walkway, patio, driveway, or anything in-between, you may be interested to know that renowned Los Angeles paving contractor Titan Pavers is now offering a free paving sealer application of up to 1,000 square feet to any first-time client.
One of the biggest advantages of building using concrete pavers is the fact that pavers are highly durable and designed to exhibit a long life-cycle without cracking or breaking. While pavers undeniably quite durable, though, they can be susceptible to stains, fading, mildew, and various other surface issues if left out in the elements for long enough.
With that said, one excellent way to keep your pavers looking as new and shiny as the day they were installed is to make use of paver sealing. Paver sealing entails using a high-quality liquid sealer that is applied to the surface of the pavers after they have been installed. After the sealer is allowed to soak into the joints of the pavers and dry completely, its then cleaned and polished to a shiny finish that will last for an incredibly long period of time.
The benefits of using paver sealer are multifaceted. In addition to protecting the surface of your pavers from staining, sealing your pavers can also make their colors more vibrant and glossy, making your pavers much more eye-catching and attractive. Since paver sealer is designed to block UV rays from the sun as well, sealing your pavers can also help prevent their color from fading after years of direct sunlight.
Lastly and arguably most importantly, paver sealer is able to help protect your pavers from being damaged from harsh weather such as ice, rain, or snow. If left unsealed, water from various forms of precipitation can seep down into small cracks in your pavers as well as the joints between them. As this water freezes and thaws it can damage your pavers, leading to cracks that continually grow larger over time. Thankfully, sealing your pavers forms a waterproof barrier over their surface, preventing water from ever reaching any joints or small cracks in your pavers that might be susceptible to further damage.
Thanks to all of these benefits, sealing your pavers after they have been installed is one of the best decisions you can make if you would like to keep your paver driveway or patio looking amazing for as long as possible – and first-time Titan Pavers clients now have the opportunity to seal their paver constructions using high-quality liquid sealer completely free of charge. This promotion is part of Titan Pavers' commitment to industry-leading customer satisfaction as well as an opportunity for Titan Pavers to reach out to new clients in the Los Angeles area.