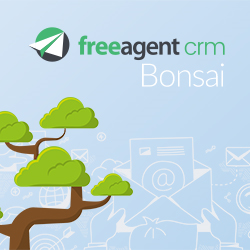 "We are re-inventing CRM as an all-in-one small business platform and excited to deliver marketing automation that will be instrumental in helping small businesses build stronger customer relationships and drive revenue growth." said Dave Stephens, CEO and Co-Founder of FreeAgent CRM.
BOZEMAN, Mont. (PRWEB) February 21, 2019
FreeAgent CRM announced the general availability of its Bonsai Release, delivering an always-on marketing platform for small business teams to grow their business efficiently, increase customer loyalty, and gain deeper customer insight.
"We are re-inventing CRM as an all-in-one small business platform and excited to deliver marketing automation that will be instrumental in helping small businesses build stronger customer relationships and drive revenue growth," said Dave Stephens, CEO and Co-Founder of FreeAgent CRM.
Included in the release is a best-in-class integration with Mailchimp, combining their beautiful email templates and simple outbound bulk emailing with power and simplicity of the FreeAgent platform.
"Email Drip Campaigns has always been a key feature of FreeAgent CRM, making sure customers and prospects feel catered to – not marketed to. Staying true to this customer-first approach in bulk outbound mailing was our top priority," said Ryan Manning, CSO and Co-Founder of FreeAgent CRM. "That's why we're really proud to support Amazon SES and Mailchimp – makers of the industry-leading email marketing solution – who also believe what we believe: empowering small business through innovative and beautiful products."
"A lot of small businesses we talk to started with Mailchimp before looking at CRM software. As small business grows, it becomes necessary to add more robust contact management with a central system of record – not to mention sales and customer service. Small business teams need everything in one place. That's why we're continuing to innovate FreeAgent CRM as the only all-in-one platform of it's kind. This extends to the way we integrate your favorite tools, like Mailchimp. Traditional CRM's simulate this by tagging on apps around their original hard-coded systems on a surface level – but these surface-integrations can't grow with you as your business grows and are not extensible as small business needs evolve. At FreeAgent, we do things differently."
"For small businesses, being able to work with the tools they're already using, like Mailchimp, has been a huge factor in a successful CRM adoption. And when 80% of traditional CRM adoptions fail, we take that pretty seriously here at FreeAgent. We're tackling the adoption problem head on to ensure our customer's success - and with daily active user rates approaching 70% and extraordinary customer retention rates rarely seen in small business, we're confident our customers will be successful with FreeAgent CRM on a level the category hasn't seen before."
Key features of the marketing platform include:
Import Contacts Automatically, from Anywhere
Relevant and comprehensive contact data is key to running an effective marketing campaign. FreeAgent CRM can increase the accuracy of your house list by 45% by connecting to a variety of resources such as:

Web Forms: Connect FreeAgent CRM to your website to create or update contacts in real-time.
Mailchimp Lists: Sync your Mailchimp mailing lists to FreeAgent in just a few clicks
Spreadsheets: Import all your CSV files into FreeAgent
Suggested Contacts: A dynamically updated list of people that seem like high potential prospects or important contacts; it works auto-magically with any email paired with FreeAgent CRM
Quickly Build Target Lists that Stay Relevant as Contact Data Changes
Filtering and segmenting contact data doesn't have to be complicated. Campaign targets can be setup in minutes, not hours. More importantly, dynamic lists can increase email open and click rates 2x by ensuring the right contacts are receiving the right message.
Advanced Filtering: From out-of-the-box to custom fields, users can apply an unlimited amount of conditions to target and filter contacts into segments, or views into a certain set of contact data. These segments can be saved away for later use in FreeAgent CRM.
Dynamic Lists: Don't you hate it when a former client receives content related to an existing client campaign? FreeAgent views are dynamic, not static! So, as new leads are added OR existing contacts are edited to include data specific to that view, they'll be automatically added to or removed from your segment lists.
Automate A Single Message, or a Nurture Series
Make life easier with intuitive workflows that leverage automation triggers. You can set up campaigns that automate loads of manual tasks and increase customer retention rates by 10- 15%. More than just email, FreeAgent CRM can automate all your work as you nurture contacts towards your campaign goal.
You can do things like…

Create a welcome email that fires out as soon as a contact fills out an online form
Build a drip series that send emails at specific times and auto-creates Next Step reminders to Call
Re-engage with contacts who haven't opened your emails or answered calls from you in a while by asking how you can serve them better
Send a follow-up series to contacts who have engaged with a previous campaign
Optimize Your Marketing Efforts
With FreeAgent CRM analytics, you can get a little smarter with every campaign. Unlike stand- alone email marketing solutions, FreeAgent can track data beyond just email open and click rates by:

Tracking and analyzing ALL customer interactions, not just email: phone call outcomes, meetings, and more
Correlating data outside of the Campaign container
Previous, existing, or future purchases or customer satisfaction rates
In addition to Email Marketing, the Bonsai Release includes key CRM platform capabilities that drive the products ability to innovate and scale beyond competitors, while remaining flexible and customizable to individual businesses in a way that no CRM has achieved before. Enhancements to the platform empower teams to increase sales and growth, deliver more value to customers and increase productivity with modern collaboration tools, such as:
@Mentions
Activity Sharing
Themes
Activity Timelines for Custom Objects
Blacklist Emails
Suggested Contacts
Preview Cards
Icon Library
Many-to-Many Relationships
For more information on FreeAgent CRM feature releases, visit https://www.freeagentcrm.com/blog/
About FreeAgent CRM
FreeAgent CRM is a cloud-based sales, marketing and customer service platform that helps businesses big-and-small nurture quality customer relationships. The platform empowers teams to increase sales and growth by delivering more value to customers and by increasing productivity with modern collaboration tools.