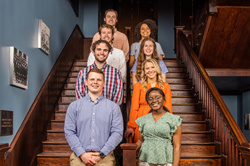 HENDERSON, Tenn. (PRWEB) April 07, 2021
Freed-Hardeman University has announced finalists for the title of Mr. and Miss FHU. All nominees will be celebrated, and Mr. and Miss FHU will be announced in chapel Friday, April 23, at 10:30 a.m. Finalists were chosen from the senior class by a vote of students, faculty and staff.
A time-honored tradition at FHU, the naming of two students who best represent the ideals of the university has been a part of student life for 80 years.
This year's finalists for Miss FHU are Emaleigh Board, an accounting major from Elizabethtown, Kentucky; Wisenie Jadis, a nursing major from Davenport, Florida; Cassidy Shrader, a communication major with an emphasis in public relations from Columbia, Tennessee; and Hannah Young, a financial planning major from Rosedale, New York.
Finalists for Mr. FHU are Jesse Bates, a Bible major from Cookeville, Tennessee; Connor Creasy, a secondary education and history major from Milan, Tennessee; Sam McGreevy, a finance major from Mount Juliet, Tennessee; and Dillan Todd, a youth and family ministry major from Chapel Hill, Tennessee.
The finalists and their families will be honored at a breakfast reception at 9:15 a.m.