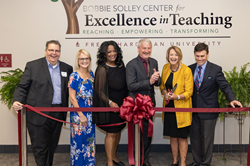 I am filled with humility that God has put me in this place to do what He has called me to do.
HENDERSON, Tenn. (PRWEB) September 21, 2021
The Bobbie Solley Center for Excellence in Teaching at Freed-Hardeman University hosted a ribbon-cutting Wednesday, Aug. 18, in the Gardner Center. Family and friends of Dr. Bobbie Solley joined her for the celebration.
Solley, a retired Middle Tennessee State University educator and the former director of international education development for Healing Hands International, initiated plans for the center and made a major contribution to its creation. The center launched in January 2021 to help develop teacher and school leaders committed to impacting student learning and fostering high academic achievement.
FHU President David R. Shannon, Vice President C.J. Vires and Sarah Hibbett, center director, all expressed their gratitude to the Bobbie Solley Foundation and for the opportunity to partner in creating a hub for quality professional development for teachers. Troy Kilzer II, superintendent of Chester County schools, thanked Solley and FHU for seeing the need to support and encourage teachers and providing a service that fills that need. Dr. Sharen Cypress, dean of the College of Education and Behavioral Sciences, provided the history behind the Bobbie Solley Foundation and its partnership with FHU.
Solley talked about her personal passion for education and her vision for the center. "I am filled with humility that God has put me in this place to do what He has called me to do," she said.
Free professional development activities for educators were offered online April 13-July 26 with approximately 351 unduplicated educators attending, according to Hibbett. Some participants attended more than one session. Attendees have joined from across all three grand divisions of Tennessee as the center has served 17 public districts/private schools. The BSCET has hosted 20 presenters from across Tennessee including educators from K-12 and public and private institutions of higher education.
The BSCET hosted new Chester County teachers for breakfast followed by a presentation from Hibbett who provided professional development focused on Tennessee Educator Acceleration Model (TEAM) July 14.
Hibbett, Dr. Amy Downey and Dr. Rachel Askew will present professional development sessions monthly during the fall semester at Caywood Elementary School. Topics will include "Power of One," "Thinking Routines," "Differentiation" and "Questioning."
The fall schedule of free, online courses will be released Sept. 1 on the BSCET website, http://www.fhu.edu/bobbie-solley-center-of-excellence-in-teaching. Registration information for the 12 planned courses is also available at this site. Online sessions last approximately one hour.