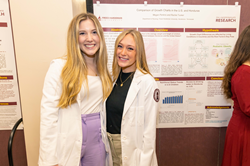 Scholars' Day is a day where we pause and share what you are researching. I appreciate the faculty and staff that were a part of it and for all they did they make this day happen.
HENDERSON, Tenn. (PRWEB) November 04, 2022
From Jesus memes to the discovery of new math, Freed-Hardeman University's Seventh Annual Scholars' Day covered a myriad of interesting topics for students to explore during the morning-long event held in Loyd Auditorium Friday, Oct. 28, 2022.
Dr. Joe Deweese, director of undergraduate research, said this year's Scholars' Day had the largest number of participants with nearly every department represented — 40 oral presentations, 12 posters and one additional display, 17 art displays, and a musical. "Overall, about 100 different people participated," he said. For Scholars' Day academic classes are canceled so students may attend the presentations.
Two popular crowd pleasers during Scholars' Day were demonstrations of a 3D printer and a student produced video game. "The interactive experiences were a big draw," said Deweese, adding that work of the planning committee contributed to this year's success. "The committee did a great job of getting the word out and keeping it out there," he said.
Among the day's oral presentations were "Jesus, Memes, and Me" from FHU student Wyatt Fairman and Dr. Matthew Sokoloski, of the Bible department. "I'm not even going to lie to ya'll, I came up with this idea as a complete and total joke and somehow it got approved for Scholars' Day," Fairman said. However, his thought-provoking research also served as a call to action. Sokoloski and Fairman offered that people should change the way social media is used to show compassion for one another.
FHU mathematics major Lucy Johnson and Dr. Jared Collins, of the mathematics department, gave a presentation about narcissistic decimals, which are best explained as numbers that are the sum of their digits raised to the number of digits. "We discovered new math," said Collins, who added that the study will be sent to peer review journals for publication by the middle of Spring 2023 semester.
FHU history and secondary education major Kylie Carter worked with Dr. Elizabeth Saunders to nominate Vincent High School to the National Register of Historic Places. "The reason for nominating this building is to preserve the memories that have happened there. So many people associate this building with excellence in education, and that deserves to be recognized and preserved," Carter said.
FHU alumna Katlyn Clifton served as the keynote speaker for University Scholars' Day. Clifton is a practicing eldercare consultant, trainer, and grief coach in Gallatin, Tennessee, where she is the Executive Director of Christian Towers and Manor, a retirement community which offers positive, intentional retirement living and transition guidance through social work advocacy and case management to approximately 200 older adults.
After graduating from Freed-Hardeman, Katlyn earned a Master's Degree in Clinical Mental Health Counseling from Western Kentucky University where she specialized in aging, grief, and counseling intervention.
During Monday's chapel, FHU President David R. Shannon praised faculty and staff for the success of Scholars' Day and encouraged students.
"Scholars' Day is a day where we pause and share what you are researching," he said. "The day you graduate and you go into your first full time job, it'll be your knowledge that helps you move forward in your work. I appreciate the faculty and staff that were a part of it and for all they did they make this day happen."
The mission of Freed-Hardeman University is to help students develop their God-given talents for His glory by empowering them with an education that integrates Christian faith, scholarship, and service. With locations in Henderson and Memphis, FHU offers associates, bachelor's, master's, specialist, and doctoral degrees. More information is available at http://www.fhu.edu.