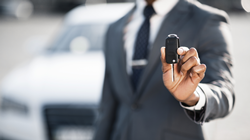 DUNCANVILLE, Texas (PRWEB) April 24, 2020
In a continued effort to help Duncanville-area locals practice safe social distancing, Freedom Chrysler Dodge Jeep Ram By Ed Morse is promoting online shopping and at-home delivery services. Local drivers can benefit from virtual shopping tools, at-home test drives and delivery options, and door-to-door concierge services.
To help those in the community who are looking to purchase a new or pre-owned vehicle do so without leaving their house, the local dealership has turned to virtual shopping tools. Potential owners can visit the Freedom Chrysler Dodge Jeep Ram By Ed Morse online inventory and sort by make, model, year, price and other features to find their dream car. Once customers have found the perfect match, they can schedule an at-home test drive and the vehicle will be delivered clean and sanitized right to their doorstep. Likewise, with at-home delivery services for new vehicle purchases, one team member will bring the vehicle and all the paperwork directly to the customer's home.
Southern Dallas County drivers in need of vehicle maintenance or repairs can also benefit from the Ed Morse door-to-door concierge service. Once an appointment has been set up, a member of the dealership's team will pick up the vehicle right from the customer's home or a pre-determined location, complete the service and return it so that drivers don't have to step foot in the dealership.
Interested individuals can learn more about the at-home delivery services by visiting the dealership's website, http://www.freedomdodgechryslerjeepram.com/. For a more personal interaction or for specific inquiries, a dealership representative can be reached by phone, 888-879-0189, anytime during business hours. The Freedom Chrysler Dodge Jeep Ram By Ed Morse sales department is open from 8:30 a.m. to 8.30 p.m. Monday and Tuesday, and from 8:30 a.m. to 7 p.m. Wednesday through Saturday. The service department operates from 7 a.m. to 6 p.m. Monday through Friday, and from 7:30 a.m. to 3 p.m. on Saturday.