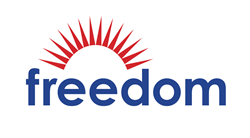 This year, financial resolutions are sharing top billing with health resolutions. Among those making financial resolutions, saving more money is followed closely by cutting spending and paying off debt.
SAN MATEO, Calif. (PRWEB) January 29, 2020
Almost half of Americans make New Year's resolutions each year. Yet fewer than 25% of people will still be committed to their resolutions by February.
The statistics may be discouraging, but it's never too late to make resolutions stick, according to Freedom Debt Relief (FDR). By the end of January, most people have received at least one paycheck for the new year, making it a good time to review and update the budget. Holiday credit card bills that have arrived in January's mail also can provide renewed motivation for those resolutions.
This year, financial resolutions are sharing top billing with health resolutions. Among those making financial resolutions, saving more money is followed closely by cutting spending and paying off debt. Given the stress that finances can cause, increasing savings and decreasing debt should help people's overall health and well-being.
No matter what your specific financial resolution, FDR suggests taking these steps to up your chances of making it stick:
1. Review credit reports. Go to http://www.annualcreditreport.com (or call 877-322-8228) to request your reports from Experian, Equifax and TransUnion, the three major credit reporting bureaus. Every person can receive a report from each bureau once a year at no charge. Review reports and then, if you spot any errors, follow the directions on each bureau's website to correct.
2. Create (or update) a budget. If you don't have a budget, now is the time to create and learn to use a simple one. Keep it simple. While many apps and software programs exist, paper and pencil, or a spreadsheet, will work well. Before entering the dollars and cents, take time to consider, set and prioritize goals. Those goals may include taking a vacation, sending a child to college, retiring at a certain age, having enough time for a daily walk and more. The goals translate directly to financial priorities, so you can build the budget around the goals.
3. Put your resolution in realistic terms. Whether it's losing weight or losing debt, the best way to achieve the goal is to set clear, realistic goals. Tackling the job of losing 50 pounds is much more realistic by setting a goal of losing 1-2 pounds per week. Similarly, if you have $15,000 in credit card debt, you'll have most success by developing a realistic plan for paying it off gradually and consistently. Use a simple, but detailed, budget to get and keep on track.
4. Monitor progress. Give yourself a visual of your progress toward your financial resolution. Download an app, create a spreadsheet or even draw a chart to put on the refrigerator door (think of the "thermometer" charts fund-raisers use) to gauge progress.
5. Commit to an emergency fund. No matter what your specific financial goal, the time is now to include a solid emergency fund in your plans. While many areas of the economy continue to do well, many experts see tell-tale cracks in some economic markers of a coming recession. Since downturns take place cyclically, it is smart to prepare while you can, say the experts at FDR. To build the fund seamlessly, automate the process by setting up electronic transfers every week or month to a savings account, or trying one of the apps to save virtual spare change.
Freedom Debt Relief
Co-founded by Andrew Housser and Brad Stroh, Freedom Debt Relief is part of Freedom Financial Network, LLC, a family of companies providing innovative solutions that empower people to live healthier financial lives. For people struggling with debt, the custom Freedom Debt Relief program offers the chance to significantly reduce and resolve what they owe more quickly than they could on their own. For more information about the company and its services, see http://www.freedomdebtrelief.com/faq.
Headquartered in San Mateo, California, Freedom Debt Relief also operates an office in Tempe, Arizona, and employs more than 2,400. The company has been voted one of the best places to work in both the San Francisco Bay area and the Phoenix area for several years.
Contact: Michael Micheletti, mmicheletti@freedomfinancialnetwork.com or 415-359-6985.