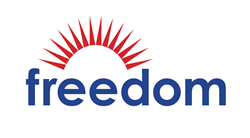 The securitization, 6.2 times oversubscribed by investors, is the first from Freedom Financial Network to receive an AAA rating.
SAN MATEO, Calif. (PRWEB) May 13, 2021
Freedom Financial Network, the parent company of Freedom Financial Asset Management (FFAM), has closed its ninth securitization, placing $272.7 million of rated notes.
This securitization, 6.2 times oversubscribed by investors, is the first to receive an AAA rating. From Kroll Bond Rating Agency (KBRA), the rating is the highest received to date on the senior notes.
"The AAA rating we have received – above the highest ratings assigned in prior securitizations – speaks to FFAM's consistent performance, strong underwriting and servicing processes, and laser focus on driving great customer experiences," says Joseph Toms, president and chief investment officer of FFAM. "We continue to distill and deliver a multi-product set of loans that benefits American consumers as well as the investment community."
The notes are collateralized by FreedomPlus (59.1%) and ConsolidationPlus (40.9%) loans. Consumers use FreedomPlus loans to consolidate debt, lower interest rates and convert revolving debt into lower-cost, more consumer-friendly installment loans. Consumers enrolled in qualifying debt programs use Consolidation Plus loans to accelerate debt settlement.
The Class A, Class B and Class C fixed-rate notes were rated AAA (sf), AA+ (sf) and A- (sf) by KBRA. The Class A and Class B fixed-rate notes were rated AA (high) (sf) and A (sf) by DBRS Morningstar, which did not rate the Class C notes.
Underwriting the transaction were Truist Securities, which served as the joint bookrunner and structuring agent; Credit Suisse, which served as joint bookrunner; and Jefferies, which served as co-manager. In addition, this securitization is bringing in nine new investors.
Issuance across all eight FFN transactions now totals nearly $2.7 billion. FFN has originated more than $3.3 billion of FreedomPlus personal loans and more than $2.2 billion ConsolidationPlus loans to date, for a total of more than $5.5 billion in total loans on its FFAM platform.
"The success of this securitization demonstrates that FFAM understands consumer needs, particularly as those needs have changed coming out of the recession and the pandemic," says Andrew Housser, co-founder and co-CEO of Freedom Financial Network. "The options we are offering are driving positive outcomes, directly helping everyday Americans get out of debt and on the road to a better financial future."
Freedom Financial Network (http://www.freedomfinancialnetwork.com)
Freedom Financial Network provides innovative solutions that empower people to live healthier financial lives. For people struggling with debt, Freedom Debt Relief offers a custom program to significantly reduce and resolve what they owe more quickly than they could on their own. FreedomPlus tailors personal loans to each borrower. For consumers enrolled in qualifying debt relief programs, ConsolidationPlus offers loans that accelerate debt settlements and enable them to be free of the debts sooner. Bills.com offers a resource site with simple tips, advice and tools to help consumers make smart financial decisions. Lendage, launched in 2019, provides customized mortgage products that help homeowners take control of maxed-out credit card debt.
Headquartered in San Mateo, California, Freedom Financial Network also operates an office in Tempe, Arizona. The company employs nearly 2,500, and has been voted one of the best places to work in both the San Francisco Bay Area and Phoenix area for several years.
Contact: Aimee Bennett, aimee@faganbusinesscommunication.com, 303-843-9840