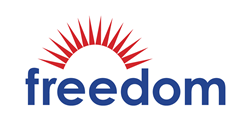 Our employees confirm that FFN is one of the best places to work in the Phoenix area.
Tempe, Ariz. (PRWEB) August 15, 2017
Freedom Financial Network (FFN) – an innovative, financial services company that enables consumers to overcome debt, build wealth and achieve better financial health – has added a new leader to its recruiting team in Tempe.
Heather Marcom has joined FFN as director of talent acquisition. With more than 18 years of experience in industries including financial services, information technology and health care, Marcom will lead efforts to staff FFN's fast-growing operations.
The company, which opened its Tempe office in April 2006 with six employees, announced plans in January to hire close to 1,000 in Tempe this year. Marcom and her team are focusing on building a high-quality team to serve the company's growing customer base, with new hires in customer service, loan servicing, negotiations, sales, technical operations and underwriting.
To accommodate the growth, FFN will move to a new 300,000-square-foot office campus at 2100 E. Rio Salado Parkway, beginning in April 2018. Occupying two four-story buildings, the new offices will provide almost 33 percent more space than FFN's present operations in Tempe.
"I am inspired to work at Freedom Financial Network," says Marcom. "My initial focus is to help others understand why I was compelled to join the FFN team." She points to the ability for people of diverse backgrounds and experience levels to build careers at the company and be part of the continued growth path. "Our employees confirm that FFN is one of the best places to work in the Phoenix area," she says. "As FFN continues to grow, it will offer more and more opportunities for career development."
Before joining FFN, Marcom was vice president of global talent acquisition for R1 RCM in Chicago. She also has served as vice president of talent acquisition for Charles Schwab, manager of talent acquisition for PayPal Global Operations, and regional vice president for Supplemental Health Care in Phoenix. Marcom holds a Bachelor of Science degree from Illinois State University.
Freedom Financial Network, LLC (http://www.freedomfinancialnetwork.com)
Freedom Financial Network, LLC (FFN) is a family of companies providing innovative solutions that empower people to live healthier financial lives. For people struggling with debt, Freedom Debt Relief offers a custom program to significantly reduce and resolve what they owe more quickly than they could on their own. FreedomPlus tailors personal loans to each borrower with a level of customer service unmatched in the industry. Bills.com helps homeowners better understand their loan options and make smarter mortgage decisions.
Headquartered in San Mateo, California, FFN also operates an office in Tempe, Arizona, and employs more than 1,700. The company has been voted one of the best places to work in both the San Francisco Bay area and the Phoenix area for several years.