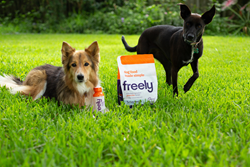 "We are here to support pet parents at a time when it is difficult to find help. "
BRENTWOOD, Mo. (PRWEB) August 19, 2020
During the COVID-19 pandemic, pet adoptions have dramatically increased while in-person access to support resources, like veterinarians or nutrition experts, has decreased. Additionally, with many consumers, especially Millennials, preferring to shop online and many local pet retailers offering limited retail hours and curb-side pick-up, it's no wonder pet parents are at a loss about where to turn with their pet questions. One pet food company has responded to that need in this rapidly changing market.
Freely®, a new pet food company which launched earlier this year, not only offers natural, Limited Ingredient Diet (LID) foods for dogs and cats but also access to a team of pet nutrition experts. The Freely Nutrition Center is a free resource for pet parents who want expert advice about their pet's nutrition, dietary needs, and lifestyles. You can connect with them by email (nutrition@freelypet.com), phone (833-918-1236), or live chat at freelypet.com. And while they do have set hours, Monday - Friday, 8am - 5pm CST, if you happen to contact them outside of those hours, they are committed to responding promptly the next business day.
According to Freely CEO, Reed Howlett, "We are here to support pet parents at a time when it is difficult to find help. We genuinely want what's best for you and your pet. So, if that means recommending another brand, we'll happily do that. Our main priority is to build a trusted relationship with pet parents, and we believe doing what's in their best interest is what counts."
According to Sara Gilbert, DVM, of the Freely Nutrition Center, some of the most common questions they receive are:
When should I transition my puppy to adult food?
How much should I feed my pet?
Is a grain-free diet better for my pet?
My pet tends to gain weight easily. How can I manage that better?
My pet sometimes has digestive issues, what kind of food might help with that?
My pet is really picky. How can I encourage him/her to eat more regularly?
Is there a nutritional difference between wet and dry foods?
How often should I switch my pet's food?
She goes on to say, "There is an unbelievable range of pet food options available. Each claims to offer unique benefits which can be quite confusing and overwhelming for pet parents. Usually, there are many correct answers for each individual pet's situation. At Freely, we are here to help pet parents navigate their choices in an honest and empathetic way and find a solution that works for their home and pet."
As a result of more pet food being purchased online, the Freely Nutrition Center is among the most convenient -- and free -- ways to ask pet nutrition experts questions and get honest, unbiased answers. Their site also offers a growing library of articles dedicated to pet nutrition topics, such as rotational feeding, the benefits of a flexitarian diet, and how your pet's breed can impact their diet.
The Nutrition Center offers these tips for new pet parents:
1. BEWARE OF TREAT CREEP. Treats and other additions to your pet's diet should make up no more than 10% of their daily calories. For a guide on how many calories your pet should eat per day, search "Tips for Treats" on freelypet.com.
2. MEASURE YOUR PET'S FOOD. Pets with a chronically full bowl of food are more likely to have trouble staying fit and maintaining a healthy weight. It is important that pet parents not only measure their pet's food each day but also expect to make adjustments based on their individual lifestyle and needs. Maintaining a healthy weight will pay off in your pet's long-term comfort and potentially lifespan.
3. FIND A TRUSTED VET. Your vet is your partner in pet parenthood. Find a vet you have a good relationship with and feel comfortable contacting when questions come up. It's also a good idea to make a plan for how to reach them when you go out of town: leave a list of vaccine records, medications, and contact information with the pet sitter.
4. CONSISTENCY IS KEY. Pets thrive when they have a routine – with their mealtimes, exercise, bedtime, even rules, and behavior. Whenever possible, keep things consistent. This can also help you detect when something may be off.
5. IT'S MORE THAN CHOCOLATE. Most pet parents know that chocolate and pets don't mix but other common human foods can be toxic for pets as well, like grapes, raisins, macadamia nuts, xylitol (sweetener), onions, and garlic. If you think your pet has gotten into something, call your vet or animal poison control right away. Search "household toxins" on freelypet.com for a more extensive list of things to avoid.
Freely Pet, LLC was started in 2020 by a group of passionate pet parents committed to making pet food easier to understand and buy. Freely products are available online at freelypet.com, Chewy.com, Amazon.com, and at select local neighborhood pet retail stores across the US. The company is driven by its purpose of enabling pet parents to nourish their pets with confidence and ease. All Freely products are Limited Ingredient Diet recipes made in the USA from the finest ingredients from around the world. Freely offers a selection of premium dry and wet foods as well as functional bone broth toppers for both dogs and cats, in a range of protein options from vegetarian and flexitarian to meat and fish. Freely is privately held and headquartered in Brentwood, Missouri, and can be visited at freelypet.com and followed on Instagram, Facebook, and Twitter at @freelypet.