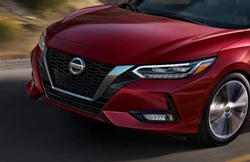 PORTLAND, Ore. (PRWEB) May 25, 2023
Headlight restoration is an essential service for keeping the vehicle looking its best. Freeman Motor Company, located near Portland, Oregon, offers an affordable headlight restoration service that will make it look new again. This service is designed to help drivers restore the clarity and brightness of their vehicle's headlights, improving safety and aesthetics.
Headlight damage and discoloration are common issues that many drivers face, reducing visibility and compromising the overall appearance of their vehicles. The Freeman Motor Company dealership's headlight restoration service utilizes advanced techniques and state-of-the-art equipment to effectively remove haze, scratches and yellowing, resulting in clear and vibrant headlights.
The headlight restoration process at Freeman Motor Company involves several steps to achieve exceptional results. First, the expert technicians carefully clean the headlights to remove dirt, grime and debris. Next, they use professional-grade sanding and polishing techniques to eliminate scratches and restore clarity. Finally, a protective sealant is applied to shield the headlights from future damage, extending their lifespan and maintaining their pristine condition.
Freeman Motor Company also emphasizes the environmental aspect of its headlight restoration service. By restoring headlights instead of replacing them, customers not only save money but also contribute to reducing waste and preserving the environment.
In addition to the headlight restoration service, Freeman Motor Company offers a wide selection of luxury vehicles, including pre-owned cars from prestigious brands such as BMW, Mercedes-Benz, Audi, Toyota, Volkswagen and Tesla. With its extensive inventory and dedication to customer service, Freeman Motor Company has established itself as a trusted dealership in the Portland area.
For more information about the affordable headlight restoration service or to schedule an appointment, customers can visit the dealership's website at https://www.freemanmotor.com/ or contact their customer service at 503-595-5353.