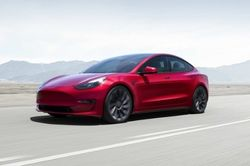 PORTLAND, Ore. (PRWEB) February 14, 2023
Freeman Motor Company is now offering a wide selection of used Tesla models to customers in the market for electric vehicles. With an emphasis on quality and affordability, the Freeman Motor Company dealership is dedicated to providing customers with the best possible car-buying experience.
The dealership's selection of used Tesla models includes a range of options to meet its customers' diverse needs and preferences. From the sleek and stylish Model S to the versatile Model X, Freeman Motor Company has a Tesla model to suit every driver.
Each used Tesla at Freeman Motor Company undergoes a thorough inspection to ensure that it meets the dealership's high standards for quality and reliability. With a focus on customer satisfaction, the dealership is committed to offering only the best pre-owned Tesla vehicles to its customers.
Buyers interested in a used Tesla can visit the Freeman Motor Company's website at https://www.freemanmotor.com/ or stop by the dealership at 320 NE Broadway St, Portland, OR 97232, to browse their selection. The dealership has a friendly and knowledgeable staff available to answer any questions and help customers find the perfect used Tesla to meet their needs.
Freeman Motor Company is committed to making the transition to electric driving as seamless and stress-free as possible. With a vast selection of used Tesla models and a team of experts to guide customers through the buying process, Freeman Motor Company is the go-to destination for those in the market for a used electric vehicle.