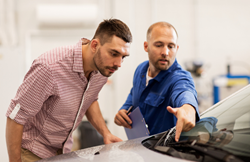 PORTLAND, Ore. (PRWEB) November 18, 2021
A car dealership franchise, Freeman Motor Company, with facilities in Salem and Portland, Oregon, offers maintenance services to customers. Oil change, brake repair, and tire rotation are some of the general maintenance services provided by the dealership. The engine servicing is recommended every six months or 5,000 miles. Regular oil change provides lubrication which helps in reducing friction and cooling down the engine.
When the vehicle's brakes are making a grinding noise and don't respond when applied, it is time to get it checked. Tire rotation helps tires to last longer and prevents uneven wear. Battery test, Multi-Point Inspection, Hand-wash and Vacuum, Tire inflation check, and correction are some of the complimentary service benefits offered by the dealership. The dealership has a team of expert technicians that provide speedy and transparent services. Freeman Motor Company staff makes sure that customers are satisfied.
During vehicle maintenance, customers can enjoy coffee while doing their work at the dealership's office. Freeman Motor Company also offers shutter services to customers if they wish to visit any nearby locations. Shutter services can be scheduled in advance at the dealership.
Freeman Motor Company has varied used models in their inventory. Interested shoppers can look at the model research and model comparison pages to know more about the vehicles.
For more details on these services, customers can visit the dealership's website or contact the service center at (503)595-5353 (Portland) and (503) 485-0303 (Salem).