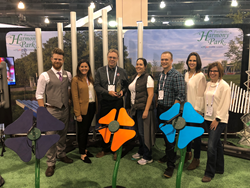 "Incorporating outdoor musical instruments along the pathways of Dorrian Green allows visitors of all ages and abilities to interact with each other, socialize, and enjoy the sculptural aesthetic of these harmonically tuned instruments."
PHILADELPHIA (PRWEB) October 23, 2018
Freenotes Harmony Park has awarded MKSK Studios and the City of Columbus Recreation and Parks department the 2018 Award for Design Excellence for the creative usage of outdoor musical instruments in Dorrian Green. This unique park is located on South Belle Street in Columbus, Ohio, and adjacent to COSI Center of Science and Industry. The award was presented at the 2018 American Society for Landscape Architecture conference in Philadelphia, Pennsylvania to partners and associates from the Columbus, Ohio office of MKSK which included Tim Schmalenberger, Kristen Lucas, Matt Blackburn, Kristyn Bowden, and Amy Taylor.
Dorrian Green provides a variety of play areas for children and adults. Park amenities include a sensory garden with outdoor musical instruments, a reading garden, butterfly and pollinator garden, and prairie garden consisting of plants native to central Ohio.
MKSK lead designer and principal, Tim Schmalenberger stated "Incorporating outdoor musical instruments along the pathways of Dorrian Green allows visitors of all ages and abilities to interact with each other, socialize, and enjoy the sculptural aesthetic of these harmonically tuned instruments."
Dorrian Green is named in honor of Franklinton native Hugh J. Dorrian, a dedicated and unwavering public servant who served as the city's fiscal guardian from 1966 through 2017, first as Columbus City Treasurer and then as Columbus City Auditor. He had a strong hand in the revitalization of the Short North and other downtown neighborhoods, the Arena District, University District, Scioto Mile and Franklinton.
Freenotes Harmony Park is a manufacturer of outdoor musical instruments Freenotes Harmony Park is a manufacturer of outdoor musical instruments for use by all ages and all abilities in public spaces. Invented by Grammy Award-Winning musician Richard Cooke more than 20 years ago these innovatively designed instruments are durable, sustainable, and perfectly tuned sound sculptures that enhance any outdoor space.