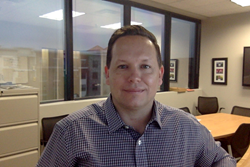 "We built FreightWise because competing platforms were badly outdated and not giving clients flexibility and visibility along the supply chain. With FreightWise, everything you need is on a modern, user-friendly cloud-based platform, designed to turn freight costs into freight profits."
NASHVILLE, Tenn. (PRWEB) August 14, 2019
FreightWise, a logistics and transportation cost-management technology provider, was today announced as No. 2 on the 2019 Inc. 500 List of America's fastest-growing private companies.
The stellar ranking recognizes the Nashville-based company's remarkable rise since its founding in 2014. The company spent the first year-and-a-half creating its cloud-based technology and had no clients, no office and no revenue until 2016, when its first week of revenue amounted to a meagre $150. By the end of 2018, annual revenue had grown to $33.4 million, representing a 30,547% increase over just three years. The impressive result was delivered by a talented, dedicated team, which is growing weekly.
FreightWise was started because CEO Chris Cochran and his founding partners identified a gap in the market for a SaaS product that would tightly integrate with a client's existing infrastructure to reduce time, money and resources spent on logistics and transportation.
"We knew there had to be a better way for enterprises to manage their transportation and freight," said Cochran, who along with Alex Rustioni sold their previous logistics company, TracBack Solutions, in 2013. "We built FreightWise because competing platforms were badly outdated and not giving clients flexibility and visibility along the supply chain. With FreightWise, everything you need is on a modern, user-friendly cloud-based platform, designed to turn freight costs into freight profits."
High-profile clients with significant supply chains include:

FreightWise clients dictate which transportation and freight carriers they want to use, for parcel, LTL (less than truckload), or truckload, then FreightWise's cost-management program leverages significant transportation volume, technology, data, expertise and processes to save time and money. Transportation savings range from 10% to over 40% per year, resulting in rates and discounts that companies are not able to achieve on their own. The platform also offloads low-value manual tasks such as freight invoice auditing and payment, least-cost carrier identification, and damaged and lost claims management, and provides granular visibility into a client's supply chain for proactive decision-making.
"Yes, we have a winning product, but our success comes down to the hard work of an extremely talented team who never quits fighting," said Cochran about FreightWise's No. 2 ranking on the Inc. 500 list. "This was a bootstrap company funded by dedicated partners and employees, and I celebrate today as part of an ownership team that also includes CIO/CTO Richard Hoehn; EVP, Sales Alex Rustioni; EVP, Operations Phil Forte; and EVP, Account Solutions Scott Samuelsen."
About FreightWise
FreightWise was founded to fill a gap in the transportation space by providing a SaaS platform that solves challenges in clients' visibility, optimization, manual processes and cost. By leveraging technology, innovation, agile development and industry expertise, the product tightly integrates with clients' existing infrastructure to reduce time, money and resources spent on shipping. FreightWise serves clients in all verticals, in all states and of all sizes. More information is available at http://www.freightwisellc.com.
Company logos and a CEO headshot can be downloaded here.