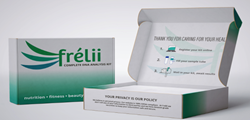 LEHI, Utah (PRWEB) December 03, 2018
The principals of Frelii began developing a computer learning-based algorithm in 2014. That algorithm, and the resulting AI (artificial intelligence), was developed with the primary goal of analyzing DNA information to generate highly-personalized protocols based on such DNA information. In 2017, the Company created a web-based platform and subscription-based model at http://www.frelii.com that provides users personalized, DNA-based diet and nutrition plans and identification of certain potential health risks. Subscribers who have previously purchased their genetic health information from 23andMe and Ancestry can upload that data to Frelii's website. The Company's proprietary technology will then automatically adjust the user's nutrition and wellness plan according to that genetic data. In fourth quarter 2018 the company is releasing a custom DNA kit that offers full genome analysis at a comparable price to 23&me's less extensive genotyping kit. The Company's personalized plans now feature meal plans, virtual personal training, supplement recommendations, downloadable menus, recipes, and shopping lists.
The Company has continued to develop its AI technology, aided in part by the gift of base code and large data sets from other public and private partnerships. Frelii's predictive capacity of the precision medicine and health and wellness AI has increased from 84% to 98.5%. Imputation Efficiency on incomplete data has increased to 95% efficiency. And our flagship high-efficiency Genetic Sequencing and analysis using our proprietary technology has increased to greater than 99% and 99.999% accuracy on whole genome and exome sequencing, respectively. For example, when the website and membership plan was originally offered to the public, our technology could analyze approximately 400 thousand data points (originally from DNA result generated by third party genotyping) and could generate approximately 384 outcomes, such as diet suggestions or identification of potential health risks. The Company's improved technology has dramatically increased the date points subject to analysis to over 60 million data points, which can generate over 60 million outcomes. The Company has also created a proprietary computational efficiency algorithm which has improved our A.I. analysis of whole genome DNA data by a factor of 8x. This profoundly more robust technological capability opens the doors to far more specific and accurate DNA analysis and far broader applications.
With that expanded capability in mind, the Company began negotiations with a number of health care providers, insurers, consumer-facing lifestyle companies, professional grade supplement providers and other product providers for such companies to use its technology in their business operations. As a result, the Company's licensing business model was born, and management expects that business to be the primary driver of revenues during the foreseeable future. While the Company will maintain and expand its consumer web-based platform business line, the Company's expanded business model now includes the following technology licensing channels/opportunities:

Life and Health Insurance. Management has begun negotiations with a large US-based multi-national financial services and insurance conglomerate for the use of its technology to potentially aid in life and other insurance underwriting using Frelii's DNA-based health risk capabilities. The Company believes that this application of its technology may provide far more accurate underwriting than simple blood tests and physical exams, the current method of information gathering for life insurance providers.
Hospital Systems. Management is also in negotiations with the management group of a majority of US-based hospitals. The Company's technology, and its application to diagnostic, health risk identification and precision medicine could improve health care and lower costs of health providers. Health providers seek to use the Company's technology to identify risks before symptoms or complaints arise, when such health issues could be addressed more efficiently and potentially more cost-effectively. The Company is also in negotiations with Canada-based health care organizations for the same purpose.
Consumer Wellness. Frelii Inc. has signed a limited partnership with DOT Inc. a company owned in part by Steve Wozniak. DOT Inc. will be intimately involved in the launch and promotion of Frelii's personalized health and wellness DNA platform. In the near future, we plan to offer our subscribers the opportunity to enhance their personalized wellness plans by ordering lab diagnostic kits for more comprehensive blood testing and analysis. In addition, we are negotiating with other wellness and lifestyle web-based platform providers, such as corporate wellness companies and large supplement providers to license Frelii's AI technology to aid in their product offerings.
Medical Cannabis Use Analysis. Where medical cannabis use is legal, such as in Canada, a newly created application of Company's AI can be used to help cannabis users determine the best or most appropriate strain or type of cannabis to use based on an individual's genetic information. The Company believes that this application could change the way that medical cannabis users buy, prepare and use cannabis for medicinal purposes.
The Company believes that these licensing and joint venture opportunities will provide the Company with access to the consumer and user data necessary to unlock the full capabilities of its technology.
"After developing our AI platform, our challenge has been to educate and expose the public to the capabilities of our technology. We have learned that consumers may be slow to adopt the health risk information that we can give them – but their health care providers and insurers see immediate and material uses," said Ian Jenkins, CEO of Frelii. "To address this challenge, and as a result of our dramatically increased capabilities, we plan to license our technology in revenue share models, and enter into joint ventures with organizations that already have material user information data-bases and that can and will use our AI for the specific purposes for which it was originally created. And, as a result, our robust technology will be applied to applications that we never dreamt of when it was initially developed."
The Company will provide further updates on joint venture arrangements and material contracts as final documents are prepared and executed.
About Frelii Inc.
Frelii Inc. is the creator of an advanced computer learning-based algorithm that generates accurate and valuable insight about individual genetic health risks, diet, fitness and beauty genetic markers and generates highly-personalized protocols based on that information, and a provider of a web-based platform at http://www.frelii.com that provides users personalized, DNA-based diet and nutrition plans and identifies certain potential health risks.
Follow Frelii online at:
Frelii Facebook Page https://www.facebook.com/livefrelii/
Frelii Twitter Feed @livefrelii
Frelii Instagram Page @livefrelii
Frelii LinkedIn Page linkedin.com/company/frelii/
Safe Harbor Statement
This release contains certain "forward-looking statements" relating to the business of the Company. All statements, other than statements of historical fact included herein are "forward-looking statements" including statements regarding: the continued growth of the e-commerce segment and the ability of the Company to continue its expansion into that segment; the ability of the Company to attract customers and partners and generate revenues; the ability of the Company to successfully execute its business plan; the business strategy, plans, and objectives of the Company; and any other statements of non-historical information. These forward-looking statements are often identified by the use of forward-looking terminology such as "believes," "expects" or similar expressions and involve known and unknown risks and uncertainties. Although the Company believes that the expectations reflected in these forward-looking statements are reasonable, they do involve assumptions, risks, and uncertainties, and these expectations may prove to be incorrect. Investors should not place undue reliance on these forward-looking statements, which speak only as of the date of this news release. The Company's actual results could differ materially from those anticipated in these forward-looking statements as a result of a variety of factors, including those discussed in the Company's periodic reports that are filed with the Securities and Exchange Commission and available on its website (http://www.sec.gov). All forward-looking statements attributable to the Company or persons acting on its behalf are expressly qualified in their entirety by these factors. Other than as required under the securities laws, the Company does not assume any duty to update these forward-looking statements.