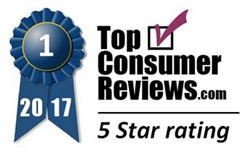 We're pleased to name Rocket French as our top pick for French lessons in 2017.
Overland Park, KS (PRWEB) March 14, 2017
TopConsumerReviews.com recently gave a best-in-class 5 star rating to Rocket Languages, a leader among French lessons that can be purchased online.
From tourists planning on a visit to Paris who want to be able to ask for directions, to aid workers serving in Francophone nations in Africa, many people are interested in learning French. With approximately 350 million people around the globe who speak French, the opportunities for using the language are abundant. Although French is one of the most commonly-taught world languages in American schools, not everyone has the chance to take a class at school. Fortunately, there are a number of effective, easy-to-use programs that offer French lessons that can be studied from the convenience of one's own home - or mobile device.
"Rocket Languages revolutionized the at-home language lessons industry, and their French program is top-notch," stated Brian Dolezal of TopConsumerReviews.com, LLC. "Students get access to more than 30 twenty-minute audio lessons, 45 grammar lessons with nearly 800 practice activities, Rocket's MegaVocab software game, and much more. We particularly love that prospective students can try the course free for six days, to see if Rocket's French lessons are a good fit for their learning style - and even after purchase, they can get a 100% refund within the first eight weeks. Former students have very positive things to say about the level of fluency achieved while using Rocket Languages' program, and we're pleased to name Rocket French as our top pick for French lessons in 2017."
To find out more about Rocket Languages and other French lessons, including reviews and comparison rankings, please visit the French lessons category of TopConsumerReviews.com at http://www.topconsumerreviews.com/french-lessons/.
About Rocket Languages
Rocket Languages is a recognized leader in online language learning, with over 1,200,000 registered users of Rocket Languages products. Formed in early 2004 by Jason Oxenham and Mark Ling, Rocket Languages began with Rocket Spanish Premium and expanded to include more than a dozen language programs designed for effective, natural learning.
About TopConsumerReviews.com
TopConsumerReviews.com, LLC is a leading provider of independent reviews and rankings of hundreds of consumer products and services. From French Lessons to Travel Insurance and Passport Services, TopConsumerReviews.com delivers in-depth product evaluations in order to make purchasing decisions easier.