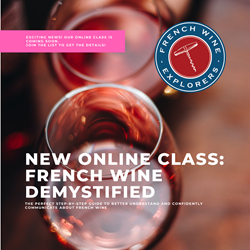 If you want to grow your knowledge of French wine, culture, food, and history in a way that is easy to digest, fun, and relevant, this is the course for you.
ST. MICHALES, Md. (PRWEB) October 06, 2020
French Wine Explorers has developed a reputation for crafting well curated luxury wine tours to France. Now the boutique wine tour company is taking the love and knowledge of French wine regions to offer an online foundation course on French wine. The course is called French Wine Demystified: Discover and communicate confidently about French wine.
French Wine Demystified is perfect for the wine lover who is looking to start their journey of French wine fluency. Those interested in an easy step-by-step guide to learning about French wine are left with few engaging and easy to follow options. French Wine Explorers responds to the need for a foundation program with the course French Wine Demystified. It is also a great option for those who are unable to travel to the various regions covered in the course, yet desire to learn more about French wine.
In discussing her new foray into the world of online classes and what she hopes to impart, Bernasse says, "Our mission is to help wine lovers become connoisseurs. This course is the start of their journey to enjoying and communicating more confidently about French wine. If you want to grow your knowledge of French wine, culture, food, and history in a way that is easy to digest, fun, and relevant, this is the course for you."
Those who complete French Wine Demystifies will:

Master the most important French wine terms, and how to pronounce them.
Appreciate the subtle nuances of Champagne beyond the big labels.
Discover how French white wines are easy to choose and which one is the most food friendly, no-fail choice!
Dig into the iconic French red wines and learn about great values including the fool proof French varietal that will guarantee success every time.
Uncover how to order wine in a restaurant without breaking the bank or regrets.
Try easy and reliable food pairings and recipes for French wines.
Enjoy online meetings as a shared community and make new connections with other wine lovers.
Test out newfound skills with easy and fun activities to share new skills with friends and family.
Bernasse will walk you through each of the units offering easy to digest information with fun activities and bonus materials. She'll impart what she's learned in her years of developing superior wine tours to France.
Bernasse started working in the travel industry in 2000 after leaving a corporate career that left her uninspired. Taking a leap of faith, she started her career at two of the first internet-based cruise retailers, then moved on to gain experience with a small niche tour operator and a brick and mortar travel agency. In 2007 Bernasse and her husband, Pierre, acquired French Wine Explorers, a boutique tour operator specializing in luxury wine vacations in France and Italy.
For the past nine years Bernasse has been featured as a Condé Nast "Top Travel Specialist" for her expertise. Bernasse earned this reputation by providing exceptional immersive tours with memorable experiences. Her success is due to her insider's knowledge and relationships with the top estates and guides in France. Daughter of a French native, Bernasse spent summers in France and received part of her college education and professional experience there. All this time spent in France has allowed her to have a deep perspective that she shares with clients.
For more information visit: https://www.wine-tours-france.com/.