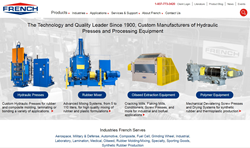 Piqua, Ohio (PRWEB) August 03, 2017
French Oil Mill Machinery Company, a hydraulic press, rubber mixer and process equipment manufacturer, announces the launch of their newly revamped website, http://www.frenchoil.com. The site showcases all three of the Company's equipment brands, French, TMP, and TMP Asian as well as their ancillary products like their Uni-Temp thermal management solutions, their equipment maintenance services, and their Innovation Center polymer and oilseed laboratory testing services.
When working through the many stages of the website redesign French had their primary Core Value in mind: Customer First. The redesigned website features enhanced navigation that offers a quick and easy way for users to research equipment solutions by product, by industry or by equipment application. The updated site is mobile and tablet responsive, allowing visitors to better view the site when away from a desk, whether on their production floor, in their plant, or when commuting or traveling. The site also features a secure client portal that allows the transfer of files related to active projects.
Within the project scope, French improved many of the highly utilized, preexisting site features like the ability to easily contact French's staff from any page, download product literature from the site, stay up to date on Company news or product enhancements through the product Blog, learn which Trade Shows and Events they are able to meet with Company sales engineers, and the overall site search.
Visitors are encouraged to explore the website and opt in to receive periodic e-mails with industry, company and product news on http://www.frenchoil.com.
French Oil Mill Machinery Company is an ISO-certified, 4th generation family-owned U. S. company that custom designs, manufactures and supports process equipment for the laminating, molding, oilseed and synthetic rubber industries. Since 1900 French has partnered with their stakeholders in over 80 countries worldwide to provide products with superior value and superior service that improve their customers' productivity and reduce their overall production costs. French's 225,000 square foot worldwide headquarters and manufacturing facility are located in Piqua, Ohio, USA.