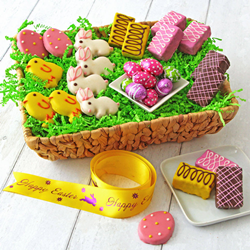 Easter season is a time of celebration and joy...we wanted to provide a reliable way to share in the spirit of spring
NEW YORK (PRWEB) March 23, 2021
BakeMeAWish.com, the leading national online gourmet gifting company, is offering springtime treats just in time for Easter. The delicious, freshly-baked goodies are beautifully-crafted and can be delivered overnight with a personalized greeting card.
The Easter lineup from Bake Me A Wish! features mouthwatering, fresh-baked favorites such as a beautifully decorated Deluxe Easter Basket and Mini Easter Basket, as well as an Easter Cookies set featuring one-dozen delicious, hand-decorated, bunny, chick, and Easter egg-shaped butter cookies. Family and friends will also love favorites from Bake Me A Wish!'s extensive and flavorful cake collection, including Vanilla Bean Cake ($48) and Carrot Cake ($48).
The official Bake Me A Wish! Easter lineup includes:

Deluxe Easter Basket ($52)
Mini Easter Basket ($32)
Easter Cookies ($38)
12pc Mini Springtime Cupcake Bouquet ($48)
Springtime Boutique Tower ($58)
4pc JUMBO "Flower" Cupcakes ($45)
"Easter season is a time of celebration and joy," said Joseph Dornoff, president of Bake Me A Wish! "Most of us cannot travel to be with family, so we wanted to provide a reliable way to share in the spirit of spring and send the gift of fresh-baked goodness!"
While we may not be able to spend the day searching for Easter eggs with our loved ones this year, receiving a gourmet bakery gift with overnight delivery from BakeMeAWish.com is a thoughtful and heartfelt way to celebrate Easter with family and friends.
To order a gourmet bakery gift for your friends and family for Easter, please visit http://www.bakemeawish.com.
On social media, visit @BakeMeAWish
Hashtags: #bakemeawish
About Bake Me A Wish!
Bake Me A Wish! was founded in 2005 with the mission to deliver divinely crafted birthday cakes and gourmet baked goods to anyone across the United States, wherever they are. BakeMeAWish.com features delicious gourmet dessert options including sumptuous recipes, personalized greeting cards and elegant packaging. 15 years later, Bake Me A Wish! offers a magnificent lineup of other mouthwatering bakery treats including cookies, brownies, cupcakes, and pies. They have expanded their offering even further with gorgeous snack baskets. Bake Me A Wish! has become the go-to source for people in need of high-quality baked goods, and is excited to help make your gifting dreams come true. Bake Me A Wish! is located in New York, New York and delivers throughout the country.