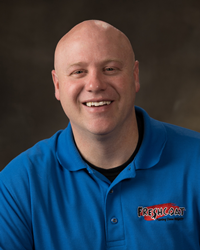 Although there are other painting companies out there, Fresh Coat Painters is unique because the entire brand is built around great customer service and quality work, which can be hard to find in this industry. -Justin Kesler
SANDY, Utah (PRWEB) April 14, 2020
Justin Kesler is pleased to announce the launch of his new business, Fresh Coat Painters of Sandy. This is the first Fresh Coat Painters franchise in Utah.
Fresh Coat Painters offers residential and commercial painting services including interior and exterior painting, sealing and staining; pressure washing; popcorn ceiling and wall paper removal; and drywall repair. Fresh Coat Painters of Sandy has a 24/7 receptionist, online scheduling and free detailed quotes, and they only use high-quality materials. Fresh Coat Painters of Sandy serves Draper, Sandy, Cottonwood Heights, Holladay, Salt Lake City and the surrounding areas along the Wasatch front.
"As I was considering opening my own business, I knew I wanted to bring something new to this area. Although there are other painting companies out there, Fresh Coat Painters is unique because the entire brand is built around great customer service and quality work, which can be hard to find in this industry," Kesler said. "I'm excited to be the state's first Fresh Coat Painters franchisee – I see it as an opportunity to be a trailblazer and to grow the company and the brand in this area from the ground up."
As part of the company's commitment to customer service, Fresh Coat Painters offers a 3-3-3 customer service pledge, which means calls will be answered by a live person within three rings, a quote will be delivered within three days (customer schedule permitting) and the job will be started within three weeks. Fresh Coat Painters has a national product partnership with Sherwin-Williams®, so products are guaranteed to be high quality.
Kesler has a background in sales and marketing, primarily in consumer products. In addition to growing the brand, Kesler is looking forward to growing the company's Fresh Coat Cares program, which encourages franchisees to give back to the community, especially through painting and surface-coating projects.
"With my on-staff, background-checked painters; my commitment to upholding the company's reputation for quality and service; and my focus on giving back, I'm looking forward to raising the bar in the painting industry in Utah," Kesler said.
Fresh Coat Painters was founded in 2004 as part of Strategic Franchising Systems. Since 2015, Fresh Coat Painters has been included in the Bond's Top 100 and named to Entrepreneur Magazine's Franchise 500 list. Fresh Coat Painters is also part of the International Franchise Association, the Small Business Association's Franchise Registry, VetFran and Minority Fran. All Fresh Coat Painters employees are background checked and Fresh Coat Painters of Sandy is bonded and insured.
For more information about Fresh Coat Painters of Sandy, call 1-855-912-6928, email JKesler@FreshCoatPainters.com or visit http://www.FreshCoatPainters.com/Sandy.