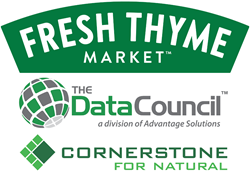 "By adding ELI Codes to our shelf tags, we will be helping our shoppers make better informed buying decisions in-store while allowing our supplier partners to provide digital content to best present their products to our shoppers."
DOWNERS GROVE, Ill. (PRWEB) October 20, 2020
Fresh Thyme will add ELI Codes (enhanced, product based QR codes) to their Natural Living department shelf tags in the beginning of November 2020. ELI Codes, when scanned by a smartphone, will display important product information including content from the IX-ONE product data and image exchange to enhance the overall shopping experience. ELI Codes are based on QR code technology and can be read natively by most modern smartphones without requiring an app.
ELI Codes were introduced to the Natural Product Channel in partnership with The Data Council (IX-ONE) by Cornerstone for Natural, the industry's premier provider of Business Management Software solutions.
Fresh Thyme's suppliers are requested to work directly with Cornerstone for Natural to enhance the content displayed by upgrading their ELI Codes to include videos, PDF files, images, URL links, and more.
"By adding ELI Codes to our shelf tags, we will be helping our shoppers make better informed buying decisions in-store while allowing our supplier partners to provide digital content to best present their products to our shoppers," said Jonathan Lawrence, Fresh Thyme's Senior Director of Grocery & Natural Living.
In addition to enhancing the overall in-store shopping experience, Fresh Thyme's staff will use these ELI Codes to learn more about the products they sell and better explain those products and their benefits to their shoppers.
"We are excited to see Fresh Thyme leading the charge to enhance the in-store shopper experience at retail," said David Williams, Cornerstone's EVP of Business Development. "Fresh Thyme is providing an online-type shopping experience in-store! This is a game changer."
Fresh Thyme suppliers who would like additional information may visit: http://www.CornerstoneForNatural.com/FTM/
About Fresh Thyme Market
Fresh Thyme Market is a full-service specialty retailer focusing on value-priced fresh, healthy, natural and organic offerings. It boasts an extensive produce department with organic and local fruits and vegetables, a natural meat department, healthy deli foods to go, hundreds of bulk food bins, dairy and frozen, health supplement products, and its own line of organic and natural private label products. Fresh Thyme has 70 stores in 10 states throughout the Midwest. Learn more at http://www.freshthyme.com.
Cornerstone for Natural™ (http://www.CornerstoneForNatural.com), a division of Cornerstone Consulting, Inc., is the natural product industry's premier provider of Business Management Software solutions. Their ELI Code Technology helps its clients communicate rich product content easily and accurately and their modular Business Management Software systems help their clients be more efficient, productive and profitable by connecting, integrating, tracking and reporting on all aspects of their business operations.
The Data Council (IX-ONE), is a division of Advantage Solutions, a leading provider of customizable and technology-enabled sales and marketing solutions. The Data Council's IX-ONE platform is the industry's choice for product data and images. Launched in collaboration with industry-leading retailers, distributors, brokers and associations, we combine rich packaging data and images with a robust member base to revolutionize the exchange of product information across the industry. Learn more at http://www.TheDataCouncil.com.