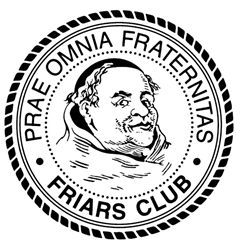 We look forward to hosting this event every year as it is a testament to what the Friars Club represents
NEW YORK (PRWEB) December 06, 2019
The Friars Club, New York's premier private members club for comedians and entertainers, and its Sunshine Committee will host the Annual Children's Holiday Party Film Event on Saturday, December 7, 2019. The event will take place at City Cinemas Village East located at 181-189 2nd Avenue, at 12th street. Theater doors will open at 8:15 AM, and the film starts promptly at 8:50 AM.
About 1,000 children and their parents from organizations in the tri-state area providing services to disadvantaged youth, are expected to attend. Guests will enjoy the screening of a newly released film, which has yet to be revealed. After the screening, Friar Santas and their helpers will distribute Friars gift packs to each of the children, which will include a drawstring bag, candy and arts & crafts materials. These gift packs have been donated by Friars Club members.
"We look forward to hosting this event every year as it is a testament to what the Friars Club represents," says Executive Director Michael Gyure. "Giving back during the holidays creates incredible moments of joy for all involved."
For nearly half a century, the Friars Club Sunshine Committee has been dedicated to bringing Friarly Sunshine into the lives of those in need, bringing memorable moments to their annual holiday party for disadvantaged children. The Friar's Club Sunshine Committee's dedicated team includes officers Larry King as Dean, WPIX11's Marvin Scott as Prior, who will also be a Friar Santa, and television host Bill Bogs. Rinaldo Nistico heads the committee as chairman.
About the Friars Club
The Friars Club was founded in 1904 as a meeting place for entertainers and over the years has achieved legendary status. Its membership includes the likes of Jimmy Fallon, Jon Stewart, Brian Williams, Barbra Streisand, Jerry Seinfeld, Rosario Dawson, Tom Cruise, Les Moonves, Whitney Cummings, Samuel L. Jackson and Robert De Niro. The Friars Club "Monastery" is headquartered in Midtown Manhattan in a classic townhouse and is a haven for entertainers, young and old.