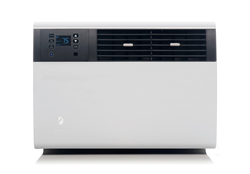 This summer's extreme heat has caused more homeowners who never thought air conditioning was a necessity to start researching and exploring their options
SAN ANTONIO, Texas (PRWEB) August 07, 2018
It's been a summer of extreme heat throughout the U.S., and with the beginning of August, experts aren't predicting it will cool off any time soon.
As triple-digit temperatures spike, so too are summer heat waves driving interest in better solutions for how to keep cool. Friedrich, a leading U.S. air conditioner company, has experienced brisk sales that began as early as June and are predicted to last well past Labor Day this year. That demand is the result of the latest options designed to help homeowners chill–from the hottest trends in portable air conditioners and mid-priced window units, to advanced systems like ductless technology.
"For years, homeowners believed that it was all or nothing–either install central air or suffer through the hottest months of the year," said TJ Wheeler, Friedrich VP of Marketing and Product Management. "Now there are many other effective alternatives designed to fit nearly any budget, and also deliver a host of additional benefits such as smart technology, greater energy efficiency and all-season performance."
From the basic to more advanced, manufacturers such as Friedrich are offering a variety of cool ways to beat the heat this summer, including:
Cool: Portable Popularity
According to Friedrich, portable units have been especially popular this year. Compact, easy to operate and budget friendly, Friedrich's ZoneAire® portable line offers many advantages such as quick installation, spot cooling and heating options, easy portability and simple set up.
Friedrich's portable line includes its larger, more powerful dual hose model, or new for 2018, its re-designed single hose ZoneAire® Compact portable unit. This 115-volt unit serves as an air conditioner, a dehumidifier, and a heater. Only 17-inches wide, it has swivel casters and built-in hose storage compartment, making it a great option for personal spot cooling (or heating) on the go. The Friedrich ZoneAire Compact line offers cooling options for spaces up to 340 square feet (P08SA), 450 square feet (P10SA) and now even up to 550 (new PS12SA).
"Portables are great for those times when you need immediate relief in a certain small space, like a bedroom, but may not need it in the rest of the house," said Wheeler. "They also look great; our sleek ZoneAire Compact is particularly popular for its design as well as its functionality."
Cooler: Room A/C Unit Resurgence
For greater cooling capabilities, yet still in the relatively affordable and easy to install category, window and room air conditioning units have advanced significantly over the past few years.
Powerful, efficient and smart, Friedrich offers a variety of room air conditioning solutions designed to fit nearly any space. The company's Kühl line is a powerhouse with its largest unit capable of producing up to 36,000 BTUs. ENERGY STAR® qualified models are available in a variety of different sizes and the Kühl line has cooling-only models and models with heat (heat pump or electric heat) in a full range of capacities so they can operate as year-round central-like systems. Kühl also is the only complete line of room air conditioners with Wi-Fi technology for convenient, remote management capabilities.
Depending on budget and space needs, Friedrich also offers its Chill, Uni-Fit and WallMaster lines, making Friedrich a leader in the variety of different room air conditioners it offers for homeowners to be able to choose the solution that best meets their needs.
Coolest: Ductless Adoption Rises
As the first manufacturer to introduce ductless to the U.S., Friedrich's ductless solutions have become increasingly popular for conditioning air faster, maintaining more accurate temperatures and reducing energy costs. Unlike central air, homeowners love the fact that with ductless, they can customize the temperature of each room in their home, so they aren't wasting energy by cooling/heating rooms that are unoccupied.
Friedrich has designed its ductless systems to be as sleek, slim and unobtrusive as possible, while still delivering maximum efficiency all season long. Homeowners can choose from single-zone cooling models, single-zone heat pumps that cool and heat, and multi-zone heat pumps that cool and heat up to as many as eight rooms on one system. The company recently introduced both 9,000 and 12,000 Btu models as part of its J-Series ductless product line capable of delivering 28.0 SEER.
Thanks to its Precision Inverter System, Friedrich ductless units also operate very quietly. This system makes changes in 1Hz increments, allowing the unit to run at variable speeds while delivering the most precise heating-cooling capabilities to maintain constant, desired temperatures.
No matter what type of solution they ultimately choose, for homeowners looking to keep cool, the many options now available spell relief for being able to ride out the rest of the summer in comfort.
"This summer's extreme heat has caused more homeowners who never thought air conditioning was a necessity to start researching and exploring their options," said Wheeler. "The good news is that manufacturers like Friedrich have stepped up to meet the rising demand with a wide variety of innovative solutions."
Friedrich products are available through authorized dealers and retailers throughout the nation. Visit http://www.friedrich.com for more information.
About Friedrich
Founded in 1883, Friedrich has manufactured room air conditioners since 1952. Friedrich is a leading manufacturer of air conditioners and other home environment products. Constructed of the highest quality components, Friedrich products are built to exacting standards and are among the quietest, most highly featured and most energy-efficient available. For more information, please visit http://www.friedrich.com