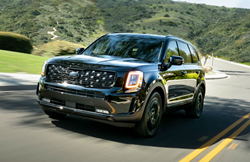 NEW PORT RICHEY, Fla. (PRWEB) August 26, 2020
While 2020 continues to be a year of change and uncertainty for many, one thing is for sure at Friendly Kia and that is that it's time to celebrate. The local dealership is celebrating another year around the sun this month, hitting 22 years this August.
Now past its young years and into full-fledged adulthood, Friendly Kia and the team want to offer gratitude and thanks to the local Tampa Bay community. Over the dealership's 22 years in New Port Richey, the family-owned dealership has grown to hold the 5th largest volume of inventory among all Florida Kia dealership thanks in part to the high demand among local shoppers.
Since its beginning in 1998, the Friendly Kia team has accepted awards and recognition from a variety of prestigious outlets, including a spot among the Kia Motors President's Club more than once. Friendly Kia is one of Tampa Bay's favorite dealerships and the team is looking forward to only getting better over the next year.
In 2021 the Kia brand is set to see a range of new vehicles enter the lineup, all of which will make their way to the Friendly Kia lot for sale. On top of new vehicles coming into town, Friendly Kia itself will see a bit of an update, with changes coming to the dealership to help improve the sales and services provided to the community.
Locals and shoppers alike can stay up to date with Friendly Kia and its team on the dealership's blog where the staff offers weekly updates on the Kia brand and the dealership.
Friendly Kia is looking forward to what 22 is bringing in the coming year and can't wait to continue to serve the Tampa Bay community. Individuals with any questions about the Friendly Kia dealership or available services or inventory are encouraged to call the Friendly Kia staff at 877-544-6706.