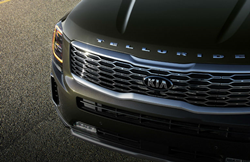 NEW PORT RICHEY, Fla. (PRWEB) November 27, 2019
For people around the world, the end of one year and the beginning of a new one is a time rife with both reflection on the time that is passing away and planning for the time ahead. The end of the year, after all, serves as a definite endpoint, begging us to summarize the previous twelve months and think about how we'll apply the things they have taught us over the next twelve.
For local businesses, this is just as true as it is for individuals. Businesses are even more forced to think in terms of year-over-year growth and accomplishments that can be used for benchmarking, objective-setting, growth and even marketing in the year ahead.
For staff at Friendly Kia – a new and used Kia sales and service center in New Port Richey – the arrival of 2020 and the departure of 2019 offers the unique opportunity to extend gratitude for a year that in many ways could not have gone better for the dealership or the automotive brand which staff are proud to sell and service.
For Friendly Kia, 2019 saw the dealership awarded its fourth consecutive invitation to the Kia Motors America President's Club, a high honor that recognizes customer satisfaction and is given only to the top-performing 30 Kia dealers in the United States. For the fourth year in a row and the sixth year out of the past seven, Friendly Kia is the only dealership in the Tampa Bay region to be recognized with this high honor from Kia Motors America.
2019 also saw Friendly Kia lead the region in total sales, with a trajectory that will see the conveniently-located Kia shop outpace their stellar 2019 performance.
For Kia, the brand Friendly Kia exclusively sells new, it was also a big year as product planners and executives introduced the world to the Kia Telluride large SUV, the latest iteration of the massively-popular Kia Soul compact crossover and, most recently, the 2021 Kia Seltos small SUV. All are models on which the sales staff at Friendly Kia have worked hard to provide educational resources through the dealership's website.
More than anything, the staff at Friendly Kia are hoping to extend gratitude to the greater Tampa Bay region for being the sole reason behind the dealership's success in 2019 and positive outlook for 2020. Emphasizing the strength of the Tampa Bay community, executive team members at Friendly Kia are motivated to make 2020 an even stronger year in which the dealership continues to meet and exceed the transportation and community needs of the West Central Florida region.
Those seeking more information on Friendly Kia are encouraged to contact the dealer by calling 877-544-6706. Friendly Kia is located at 5819 U.S. Highway 19 in New Port Richey.