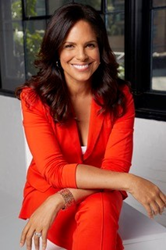 Our Facilities Team showed great courage and commitment to show up and help protect our workplace, even at the height of COVID fears and uncertainty
NEW YORK (PRWEB) October 26, 2020
On October 28, 2020, the Friends of CenterLight Foundation will host its first-ever virtual fundraising gala, "Rising to the Challenge for 100 Years," which marks CenterLight's century-long legacy of caring for New Yorkers in need. This live, online gathering will be a fun, meaningful evening, with special guests and opportunities to network, interact and learn about how the Foundation has addressed the challenges created by the Coronavirus pandemic. CBS Medical Contributor and New York Times bestselling author David B. Agus, MD will be the evening's keynote speaker. Emmy-awarding winning journalist Soledad O'Brien will serve as the event's emcee.
The Friends of CenterLight Foundation is part of CenterLight Health System, which operates Teamcare, New York's largest Program of All-inclusive Care for the Elderly (PACE), and the nation's largest non-profit PACE program.
2020 Honorees
This year's gala honors the CenterLight's Facilities Team, for the creation and ongoing operation of a pantry for food insecure CenterLight patients, and for their unwavering efforts to keep its facilities safe for patients and staff.
"Our Facilities Team showed great courage and commitment to show up and help protect our workplace, even at the height of COVID fears and uncertainty," says CenterLight President and CEO David Rock. "Recognizing another way to make a difference, they created a food pantry at our Wallerstein Center in the Bronx. This pantry provides supplemental food and other items to our patients who have struggled due to the pandemic. Their caring and dedication exemplifies all that we stand for at CenterLight, and we are thrilled to honor them."
About David B. Agus, MD
Founding Director and CEO, Lawrence J. Ellison Institute for Transformative Medicine of USC
CBS News Medical Contributor and New York Times Best-selling Author
Dr. David B. Agus is one of the world's leading doctors and pioneering biomedical researchers.
He is a professor of medicine and engineering at the University of Southern California's Keck School of Medicine and Viterbi School of Engineering. He is the founding director and CEO of the Lawrence J. Ellison Institute for Transformative Medicine of USC.
A medical oncologist, Dr. Agus leads a multidisciplinary team of researchers dedicated to the development and use of technologies to guide doctors in making health-care decisions tailored to individual needs.
An international leader in new technologies and approaches for personalized healthcare, Dr. Agus serves in leadership roles at the World Economic Forum and other prestigious organizations. He is also a CBS News contributor.
Dr. Agus' three books "The End of Illness", "A Short Guide to a Long Life" and "The Lucky Years: How to Thrive in the Brave New World of Health" are all New York Times and international bestsellers. He is a 2017 recipient of the Ellis Island Medal of Honor.
About Soledad O'Brien
Soledad O'Brien is an Emmy-award-winning documentarian, journalist, speaker, author, and philanthropist, who founded Soledad O'Brien Productions, a multi-platform media production company dedicated to telling empowering and authentic stories on a range of social issues. She anchors and produces the Hearst TV political magazine program "Matter of Fact with Soledad O'Brien" and is a correspondent for HBO Real Sports.
With over 1.3 million Twitter followers, O'Brien makes a national impact through her speeches, numerous documentaries and her presence on the op-ed pages of platforms like the New York Times and Huffington Post. She has anchored shows on CNN, MSNBC, and NBC, and reported for Fox, A&E, Oxygen, Nat Geo, the PBS NewsHour, WebMD and Al Jazeera America, among others.
Event Details
The event will kick off on October 28, with a VIP Experience at 6pm, followed by a virtual gala broadcast at 6:30 PM. Learn about tickets and sponsorship opportunities at https://www.centerlight.org/gala.
About Friends of CenterLight
The Friends of CenterLight Foundation is a 501(c)(3) charity dedicated to improving the lives of CenterLight participants by helping them to maintain their health, well-being and autonomy in environments that honor their individual needs, values and preferences.
About CenterLight Teamcare
CenterLight Teamcare, a program of CenterLight Healthcare, operates 14 locations throughout New York City, Westchester and Nassau/Suffolk Counties and empowers older adults to continue to live independently, at home and in their communities. Providing culturally-sensitive care to thousands of New Yorkers daily, CenterLight staff speaks 26+ languages and dialects, including Arabic, Albanian, Chinese, Creole, English, Korean, Hindi, Punjabi, Russian and Spanish. CenterLight TeamCare™ develops individualized care plans, which are carried out by a dedicated interdisciplinary team (IDT) of doctors, nurses, physical therapists, nutritionists, recreational therapists and other professionals working in concert to provide care as unique as the richly diverse participants enrolled in the plan. Learn more at http://www.centerlighthealthcare.org.