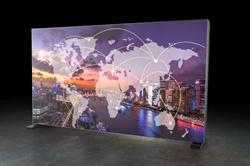 "Decca is the flagship hardware for environments running MultiTaction's Canvus Collaboration and Showcase presentation software packages but is equally at home driving custom interactive environments," said Ari Rahkonen, CEO MultiTaction
VANTAA, Finland (PRWEB) January 21, 2021
Today, MultiTaction is pleased to unveil our new 55" interactive display, Decca (MT557D). For over a decade MultiTaction has developed solutions that revolutionize spaces and bring interactivity and collaboration to teams worldwide. Decca represents the next generation of MultiTaction's 3D optical display hardware, and incorporates our latest technological advances along with many refinements – making Decca truly a display to be celebrated.
Decca incorporates the next generation of MultiTaction's revolutionary ClearSight touch technology (machine vision through screen) engineered for 24/7 commercial environments. This system utilizes an array of 32 embedded cameras which interpret input made by hands, pens and other objects that interact with the screen's surface. The technology is unique to MultiTaction interactive displays and gives design freedom to create interactive walls with features like curves and right-angles, which other video wall technologies cannot match. Furthermore, ClearSight touch technology is so responsive, it even rivals the best of today's highest-end mobile devices.
Decca has 30% more internal processing power than previous models. Power consumption has been further optimized so that even with the added horsepower Decca boasts improved energy efficiency. Along with these advances, Decca has whisper-soft fans that keep the system cool and quiet. Visually stunning graphics and impeccable color uniformity are further enhanced by Decca's durable, satin smooth surface. Decca is also the first display from MultiTaction to feature an easy-to-clean, antimicrobial touch surface. Product is shipping now and available through traditional MultiTaction channels.
"Decca is the result of 10 years of design improvements bringing forward the most advanced interactive display in the market. Decca has been improved in almost every way and updated with an antimicrobial surface making it the only video wall display that meets today's business challenges head-on," said Ari Rahkonen, CEO, MultiTaction. "Decca is the flagship hardware for environments running MultiTaction's Canvus Collaboration and Showcase presentation software packages but is equally at home driving custom interactive environments."
Decca's Key Features

Responsive. ClearSight touch provides the fastest, most responsive and reliable touch tracking system of any video wall display on the market. Users experience the same instantaneous control they expect on their personal touch displays on a much larger scale.
Engaging. Truly unlimited, simultaneous touch points using fingers, pens, Codice markers and even most gloved hands. This means every user will experience the same engaging touch experience regardless of how many people are working together.
Stunning. The unique touch technology of Decca allows for an infinite range of shapes and sizes that can include curves, right angles, and table configurations. Unleash your creativity and design an interactive wall without the limitations you get from other displays.
Effortless. Decca's satin smooth touch surface makes interacting fun and effortless. Decca is also the first display from MultiTaction to feature an easy-to-clean, antimicrobial touch surface.
Durable. With edge-bonded cover glass, an extended aluminum frame and the ability to run 24/7 the build quality is second to none. Whether you need a video wall to handle a round-the-clock control room or a high-traffic public lobby, MultiTaction commercial-grade displays are built to handle it.
Quiet. The powerful exhaust system uses forced air, which utilizes low noise variable speed internal fans. Background noise can be distracting in many environments, Decca's whisper-soft fans keep the system cool without the hum you often hear with other systems.
Accurate. Engineered with pinpoint accuracy, which means no periodic re-calibration is needed, install and go. Enabling the largest video walls in the industry to operate without need to ongoing adjustments makes life a lot easier.
To transform Decca into a complete collaboration and visualization solution from MultiTaction pair it with our software solutions:
Canvus Collaboration Software. Canvus enables organizations to solve some of the most pressing issues they face today, such as gaining the competitive advantage, getting to market faster, increasing productivity within teams, and delivering value through big data analytics and business intelligence. In 2020 the obvious challenge became how to bring people together in a way that saves them having to be physically in the same space. with Canvus, there is a collaboration platform that can deliver on the promise of anywhere, anytime, and any device collaboration.
Showcase Presentation Software. Showcase delivers the ultimate interactive experience. With touch and go interactivity, people can walk up and start using the wall right away. Organizations can spend a significant amount of time and money creating compelling content for different purposes and audiences. Showcase provides a fully interactive and customizable stage, where your rich media assets can perform to engage and delight clients, staff and visitors alike. An intuitive design interface allows for in-house content creation saving both time and money.
About MultiTaction
MultiTaction designs advanced visualization and collaboration solutions to improve the way the world works. Its award-winning, 3D optical recognition multi-touch displays, and innovative software suite are used by some of the world's largest corporations, museums, educational institutions and entertainment companies. With solutions deployed in over 50 countries and offices across the United States, Asia and Europe. The company is headquartered in Helsinki, Finland and has its US operations based in Chicago, Illinois. MultiTaction systems are currently in use in more than 50 countries around the globe. For more information, please visit http://www.multitaction.com.