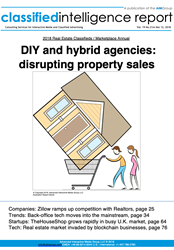 ALTAMONTE SPRINGS, Fla. (PRWEB) December 08, 2018
Prominent real estate companies like Zillow of North America, Fang in China and RightMove of the United Kingdom are evolving rapidly as the business of real estate advertising changes with the introduction of new services and advanced technologies, an AIM Group report shows.
The AIM Group's newly released 2018 Real Estate Advertising Annual highlights these companies and many more. The 117-page report covers 310 companies from A (AtHome.co.jp, AVendreALouer.fr, for example) to Z (Zillow, Zoopla and others). It outlines five major trends, including the growth of "I-buyers," the incorporation of back-office services into real estate advertising products, and hybrid agencies like PurpleBricks, EMoov and HomeSimple, among others.
"Real estate or property advertising has changed radically from the days of print newspaper and magazine ads, and volumes the size of phonebooks filled with multiple listing service content," said Peter M. Zollman, founding principal of the AIM Group, which publishes Classified Intelligence Report. "For today's real estate advertising marketplace, a whole layer of complex tools and technologies is required to serve agents, dealers, homebuyers and potential tenants."
Who is winning the race for real estate leadership in China? India? The world? Why is Australian-based powerhouse REA Group making a major push into Asia? Why are African sites beginning to prioritize revenue? In-depth analysis reports the answers to the questions.
The report also provides a roundup of the world's Top 100 real estate sites by web traffic, provides updates on new products and services added by property sites, and profiles the top real estate advertising sites / apps by country.
The 2018 AIM Group Real Estate Advertising Annual is available at AIMGroup.com for $1,495 with a money-back guarantee. A free preview edition is also available at the site.
Note to reporters / editors: Free copies of the report are available for coverage purposes by calling 407-788-2780 or emailing info@aimgroup.com. Founding principal Peter M. Zollman of the AIM Group is available for interviews at 321-356-3182.
About the AIM Group: The AIM Group is a world-class boutique consultancy and provider of business intelligence on digital marketplaces. We help dot-coms, media companies, technology providers and investors develop and invest in successful, growing businesses. We're a global team of more than 30 people who follow changes in the marketplace and classified advertising industry more closely and in greater depth than anyone else. We publish Classified Intelligence Report, referred to as "the bible of the classified advertising industry" and run leading global conferences for recruitment, automotive, and general classified businesses. We also recently published the 2018 Global Classified Annual Report. Founded in 1998, it is based in Altamonte Springs, Fla. For more information call (407) 788-2780 or visit AIMGroup.com.