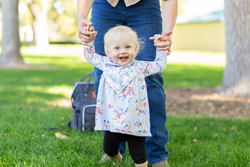 ENCINO, Calif. (PRWEB) June 10, 2021
KeaWorld LLC today announced a major business milestone of one of their brands, KeaBabies, in reaching 2 million customers worldwide.
The self-funded brand mainly serves the U.S. market, as well as Canada and a number of countries in Europe.
Their annual sales reached $20 million in 2020, witnessing a double growth despite the challenging pandemic times.
"This milestone is proof for us to keep on striving to provide trusted and affordable baby and maternity products that simplify parents' lives. We plan to introduce even more sustainable and internationally-certified products to millions of homes worldwide," says Ivan Ong, Chief Executive Officer of KeaBabies, who co-founded the brand with his wife, Jane Neo.
Running the brand on their own funding allows them full independence in making strategic decisions on product developments and pricing. This enables them to best serve their customers' needs.
KeaBabies' presence in major e-commerce platforms offers convenience to new parents and expecting mothers to shop from the safety of their own home. "Our products are based on thoughtful research and heartfelt insights as first-hand parents," says Jane Neo, Co-founder and Brand Director of KeaBabies.
The brand brings to the market, products such as KeaBabies' Baby Wrap Carrier, a versatile wrap that enhances bonding while allowing parents to move about their day, and Organic Nursing Pads, earth-friendly nursing pads made of organic bamboo that is safe both for babies and mother's skin.
KeaBabies paved its way into the U.S. online market through third-party marketplaces such as Amazon, and later expanded to other major e-commerce channels such as WalMart, Target and Macy's. They have also been reaching out to customers through wholesale platforms. "Our strategy is simple, yet proven thus far: Meet customers wherever they are," adds Ivan. The brand is now enjoying a strong foothold in 13 countries, including Canada, Germany, U.K., France and Italy, apart from the U.S. which accounts for 75% of their market.
They fulfill 3,000 orders daily from parents all over the world seeking for affordable quality baby products.
KeaWorld has been awarded ISO 9001:2015 accreditation and as part of their ongoing effort towards sustainability, the brand earned the Global Organic Textile Standards (GOTS) certification last year, enhancing their reputation as a brand that upholds sustainable business practices. With customers and sustainability at the heart of their product innovation, they have exciting products in their 2021 pipeline. "We are very excited to be introducing them to the market this year," Jane closed.
About KeaBabies
KeaBabies, under KeaWorld LLC, is a global baby and maternity brand that strives to inspire modern parents to build strong parent-child bonds and create wonderful moments together. It is known for their award-winning, affordable quality products that are safe and comforting for babies, and simplify parents' lives such as Baby Wraps, Diaper Backpacks, Organic Bandana Bibs, Organic Nursing Pads and Toddler Pillows.
KeaWorld has been awarded ISO 9001:2015 accreditation, an international standard dedicated to Quality Management Systems (QMS). In 2020, the company obtained the Global Organic Textile Standards (GOTS) certification, an internationally recognized organic textile standard.
TheKeaCommunity has been a platform for parents to seek and share support, with many stepping up as moderators and brand ambassadors. The brand has been dedicating a special Covid-19 Resources section as a pledge of support to parents.
The KeaWorld group comprises 3 brands, KeaBabies, KeaDreams, and DrKea. KeaBabies, the largest of the three, is currently in 13 countries to date and has won numerous awards for multiple baby and maternity products.
For more information and interview requests:
Jane Neo
jane@keababies.com
http://www.keababies.com