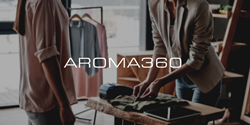 Market leader, Aroma360, utilizes the ultimate in essential oils and HVAC technology to bring about a safe, environmentally-friendly scenting solution that's virtually maintenance-free.
MIAMI (PRWEB) November 27, 2019
The scenting of business premises isn't solely about creating a fragrant environment—targeting the human sense of smell has a far deeper reach. Aroma travels directly to the area of the brain that influences behavior, a carefully chosen essence can have hugely beneficial effects on both consumers and workers. The human olfactory system is programmed to have an immediate reaction to fragrance, whether it be stimulating a memory, stirring emotions, or creating a mindset conducive to learning and productivity.
When it comes to scent branding—the art of linking a signature scent to consumer recognition—the advantages are clear. However, the effects certainly don't end there. A curated scent can subtly stimulate required behaviors, such as the intent to purchase, perceived quality of a product, desire to browse, and the output and performance of workers.
The Power Of Aroma On Behaviors In All Environments
Thanks to the technological advancements of commercial scent machines, filling an environment with a scent is now a simple task. The concept can be applied to areas small and large, from a retail floor to a complete office block. These machines can even be used in areas previously impossible to scent, such as around a trade show stand at an industry event. The advantages are enormous and the subject of much on-going research into a constantly growing and untapped potential.
Many studies have been carried out as to the power of "aromachology", as the craft is referred to. One such area of research by electronics giant, Samsung, showed that shoppers increased their time in-store by an average of 15 minutes when in a strategically scented environment. A Japanese firm discovered that the use of a lemon scent within their office premises increased productivity by up to 54%, and the use of a combination of jasmine and lavender soothed stress for workers carrying out data entry.
The Hidden Force Of Fragrance
While certain odors have an emotional connection, often something a person experienced in childhood, the power of individual aromas for a large proportion of the population is a highly effective method of stimulating positive behaviors. For instance, the relaxing tones of lavender can reduce anxiety, peppermint is invigorating, and vanilla creates the same pleasures as eating a sweet treat. Taking these three examples into account, such fragrances could be used in areas such as a massage parlor, team-building event, and dietetic practice.
Aromachologists work with companies to create structured aromatic footprints that gently target required behavior patterns, working with the specific demographics of a company and the intentions behind the reasons for scenting. The power to affect mood through this invisible art brings about benefits for all companies, including those that don't have any customer-facing elements and are scenting purely to increase worker efficiency, accuracy, and well-being.
When it comes to effectively introducing an aroma to an environment, the choice for companies has advanced tremendously over recent years thanks to the use of scent machines. Market leader, Aroma360, utilizes the ultimate in essential oils and HVAC technology to bring about a safe, environmentally-friendly solution that's virtually maintenance-free. In addition, the use of cold air diffusion allows the delicate structure of molecules of high-grade essential oils to remain fully intact, ensuring the therapeutic benefits are not lost and even coverage of the area to be scented is guaranteed.
The advantages of fragrancing the workspace are fast becoming the go-to choice for businesses small and large that seek to improve both customer and worker experience. As we become more aware of how external influences have an increasing effect on the human subconscious, it makes perfect sense that the invisible power of fragrance is embraced to improve both the work and consumer environment. Find out more at https://www.aroma360.com.