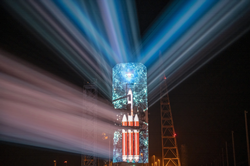 LOS ANGELES (PRWEB) January 02, 2021
The world's first 3D mapping on an operational rocket, at Cape Canaveral (Christie.) The Guinness World Record of the Largest Videogame Display, for Xbox (Barco.) The largest estate ever mapped in the USA (Panasonic.)
Indeed, it's been an unprecedented year for LA-based PaintScaping. Against all odds.
And we owe it all to the people behind the curtain.
Our year started in Hamilton, the capital of Bermuda. We mapped the City Hall on NYE using 2 Barco UDX-4K32 projectors.
To 2020! A new decade!
On January 5th we flew directly to San Diego for closing night of one of our greatest jobs ever. Aurora at the San Diego Zoo. A hugely successful show, with record crowds every night. Using 13 Christie Boxers 4k30s.
In February, we worked with a major A-lister, on a Hollywood stage, for a campaign. A campaign that eventually got delayed because of that virus. More to come in 2021.
And then, March came and Covid crashed the party. In a single week, we lost 5 contracts. Still, we had hope. In April, we went to Niagara Falls for a survey. In May, it was Dallas, for another survey.
During the summer, we worked on many sets in Hollywood. All socially-distanced. We helped an up-and-comer named 070 Shake with her video. The following week, her video premiered on The Tonight Show, with Jimmy Fallon. That's showbiz!
And then United Launch Alliance – a joint venture between Lockheed & Boeing -- called us for mapping a rocket. Operational, no less. At Cape Canaveral. First time in history. It was epic. We used 6 Christie D4k-40 -- 45,000 ISO lumens each.
Despite the struggles and challenges of 2020, we are fortunate. The end of the year has been phenomenal for us and for that we are so grateful.
We mapped Winterthur, the 4th largest Estate in the USA, at 96,000 sqft, former home of the Du Pont family, using the mighty Panasonic 50,000 lumens PT-RQ50K.
In short order we mapped a fountain at Grandscape, a Dallas mega-mall partly owned by Warren Buffett, using 3 Barco UDX-4K32s, installed by our brilliant colleagues at Electrosonic; North Hills, a sophisticated shopping center in Raleigh, NC; and University Town Center, another mega-mall, this time in Sarasota, Florida.
And we closed 2020 with a bang.
We did the install for the Guinness World Record of the Largest Videogame Display ever. At the top of Copper Mountain, in Colorado. At an altitude of 11,000ft. Using 3 Barco UDX-4k40s.
But it's the people behind the curtain that make us who we are: Mike Cianciola, the phenomenally talented VP of Operations for all those crazy jobs. Michael McCaughey, our tireless Los Angeles office manager. Julia Bergeron, the business development guru. Jerry Weil, the Maya genius, who has never shied away from a technical challenge. Michael Kory, another Maya magician, whose stunning artistic direction cannot be overstated. Rob Ostir, dark and brilliant. Leif Einarrson, an extremely talented character animator. Chase Granat, our on-site tech dude. Sophie Bergeron, the voice behind social media. John Kayem, our resident Photoshop artist. Isabel Drean, who is undescribable.
And the person at the helm is Philippe Bergeron, CEO and President of PaintScaping. He guest-starred on The Sopranos. So don't mess with him.
To 2021!
For our latest reel, visit:
https://www.paintscaping.com/reel
For high-rez photos, visit:
https://www.paintscaping.com
And right-click on thumbnails to download.
About Philippe Bergeron
Philippe Bergeron is founder and CEO of PaintScaping, a global leader in 3D projection mapping. PaintScaping has done mapping in the USA, Mexico, Canada, France, Ireland, and South Africa. Bergeron, a native of Montreal with a B.S. and M.S. degree in computer science from the University of Montreal, remains a 3D mapping innovator and invited presenter for numerous industry events. He is also an actor. His numerous film and TV credits include Iron Man 2, Mad Men, Rush Hour 3, Contact, E.R., and guest starred in the final season of The Sopranos.
About PaintScaping
PaintScaping is the industry leader in 3D mapping. Founded in 2009 by Philippe Bergeron, the Los Angeles-based company has produced unique 3D mapping shows across the U.S. including Orlando, Los Angeles, Las Vegas, New York, and Chicago, and many places around the world. Among its many clients are MGM Resorts, Ritz-Carlton, Sony Pictures, Westin Hotels, Caruso, and Cirque du Soleil. It holds many records in the mapping world. The most viewed mapping ever on YouTube. The biggest USA mapping ever. And the longest throw ever at 1.1 km.
Philippe Bergeron is available for interviews. Video and photos are also available on request.
Media Contact:
Julia Bergeron – 818-497-8762
marketing@paintscaping.com