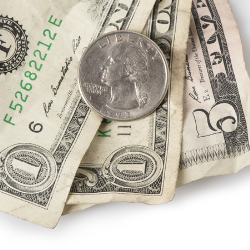 With recent shifts in leadership at the federal, state, and local levels, however, businesses can expect continued widespread debate about, and pressure for, somewhat higher compensation rates for traditionally low-paid jobs.
PITTSBURGH (PRWEB) January 21, 2019
According to a report by Fisher Phillips, the new year has rung in minimum hourly base pay increases in 19 states, ranging from Minnesota's $8.04 for some employees to New York's $15 for New York City-based fast-food workers. In addition, Oregon and the District of Columbia have minimum wage increases scheduled for July 1, 2019.[1] "The federal minimum wage," says Cowden Associates President and CEO Elliot Dinkin, a nationally known expert in actuarial, compensation, and employee benefits issues, "has not changed in over a decade.[2] With recent shifts in leadership at the federal, state, and local levels, however, businesses can expect continued widespread debate about, and pressure for, somewhat higher compensation rates for traditionally low-paid jobs."
While some economists have argued that artificial wage floors will shutter businesses and put low-wage workers out on the street, that has apparently so far not been the case. In Seattle, where the city council passed an ordinance in 2014 raising the minimum wage to $15 per hour by 2020, a joint study by the National Bureau of Economic Research and the University of Washington indicate that low-wage workers have actually seen significant gains in income while remaining in their jobs longer.[3]
Other observers maintain that although economics, in terms of predictiveness, is at best an uncertain science—the entire profession, they note, managed not to foresee the housing bubble and resultant market collapse of 2008—certain economic actions do have predictable results, among them lost employment opportunity triggered by an increase in the minimum wage. One such result in Seattle, it is argued, may be the replacement of low-wage restaurant personnel by robots and artificial-intelligence devices.[4]
Dinkin notes that while such outcomes might be remotely possible, the present-day reality involves minimum-wage increases that, as of January 1, affected some five million workers across the country.[5] Given that fact, he recommends that employers take stock of their personnel situation, factoring in variables such as the cost of replacing workers lost due to high turnover rates. In today's environment, proceeding with the status quo (including across-the-board same-wage increases for all) may simply add to employers' existing problems with attraction and retention. Additionally, employers need to consider the trickle-up effect for employees for salaries as well as overall morale within an organization.
"This is an ideal time," says Dinkin, "for business managers to take a close look at internal and external pay equity in terms of career ladder and compensation ranges, bonus and commission plans, and merit increases. For many employers, it may be time to meet with a qualified business advisor and review their total compensation program. Compensation—base pay, incentives, retirement, and so on—represents a significant cost. There may be a way to allocate these resources so as to both increase employee satisfaction and better accomplish the company's strategic goals."
About Cowden Associates:
Cowden Associates, Inc., headquartered in Pittsburgh, PA, was created in 2001 by the merger of Halliwell and Associates and MMC&P Spectrum Benefits, which was founded by Jere Cowden in 1986. Currently led by President & CEO Elliot Dinkin, Cowden Associates specializes in helping corporate clients find the best solutions, both for the enterprise and for its employees, with regard to compensation, healthcare benefits, retirement and pension issues, and Taft-Hartley fund consulting. Winning Workplaces and The Wall Street Journal have recognized Cowden Associates as a "Top Small Workplace," a lifetime designation awarded to executives for their ability to build and lead savvy organizations. For more information, visit http://www.cowdenassociates.com
1. Burden, Lisa, "New year brings minimum wage hike in 19 states," HR Dive, January 2, 2019.
2. Horowitz, Julia, "It's been 10 years since Congress raised the minimum wage," CNN, May 25, 2017.
3. Keller, Jared, "The Future of the Minimum Wage is Alive in Seattle," Pacific Standard, January 4, 2019.
4. McCusker, James, "Minimum wage increase will have unintended consequences," Herald Business Journal, January 5, 2019.
5. Cooper, David, "Over 5 million workers will have higher pay on January 1 thanks to state minimum wage increases," Economic Policy Institute Working Economics Blog, December 26, 2018.