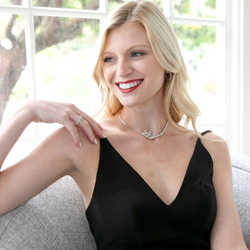 Always start with a yes.
SAN FRANCISCO (PRWEB) August 16, 2021
Erin Flynn Fine Jewelry, the woman-owned luxury jewelry small business, launched this year with the goal of "Celebrating Women, Celebrating Life." Erin Flynn left the corporate world of well-known jewelry brands to create a line of everyday luxury pieces meant to be worn, cherished, and passed down as markers of a life well-lived. Through her distinct jewelry line, she seeks to inspire others, particularly women, to reach for their fullest potential and write their life story as they want it to be written.
"Before I started this company I found myself designing jewelry at night," shares Flynn. "I had two young kids who needed more attention and I should have been doing other things, and I thought, 'what am I doing?' That's why I wanted to start this company. To follow my creative outlet, and also to bring joy to other people, to help them envision what they want in life and what they want their jewelry wardrobe to look like. That is the heart of what I'm doing."
Erin Flynn Fine Jewelry is embodied in three distinct collections – Megawatt, Champagne Bubbles, and Defining Lines – each home to elegantly crafted necklaces, rings, earrings, pendants, and bracelets. The collections feature eye-catching, classic pieces with radiant marquise diamonds, along with ethically sourced, conflict-free diamonds.
Flynn offers custom design to fulfill her clients' greatest visions. She works to provide expert guidance and takes time to understand a client's style, vision, and needs to create timeless jewelry they will cherish for life. By incorporating consultations, careful design considerations, and personalized perfection, Flynn makes the customization process exciting, fun, and memorable.
Erin Flynn Fine Jewelry is available for purchase online and has plans to expand into additional jewelry sites and storefronts with like-minded designers.
About Erin Flynn Fine Jewelry:
Erin Flynn believes luxury should be experienced in the everyday moments. The San Francisco-based jewelry designer is living out her personal mantra of "always start with a yes," and creating ethically sourced luxury jewelry collections and bespoke pieces for daily wear. Get to know Erin Flynn Fine Jewelry at erinflynnjewelry.com or on social media @erinflynnfinejewelry. Erin Flynn can be reached by email at info@erinflynnjewelry.com.