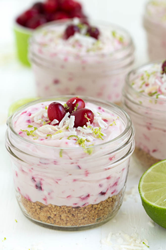 Frozen cranberries can often be used in recipes that call for fresh without even having to thaw.
WAREHAM, Mass. (PRWEB) April 28, 2020
As many Americans are social distancing at home, most are cooking more than ever before and clearing out items from their pantries and freezers. If you heeded the Cranberry Marketing Committee's advice last fall and stocked your freezer full of fresh cranberries, now is a good time to get creative.
Cooking with cranberries is a fun and easy way to incorporate unique flavor, color and variety into meals. Frozen cranberries can often be used in recipes that call for fresh without even having to thaw. Some simple ways to use frozen cranberries include:

Blend into smoothies
Make your own cranberry sauce (and then see our post regarding cranberry sauce uses)
Make sweet or savory salsa
Roast with winter squash, sweet potatoes or in a roasted cranberry and butternut squash soup
Mix into muffins, pancakes and breads
Bake into cakes or cookies
Pair with apples or pears in a fruit tart
Float on top of a cranberry margarita, sangria, mimosa, or skewer a few with a toothpick to garnish other cocktails
America's Original Superfruit® offers big health benefits in a tiny package, including unique polyphenols not commonly found in other fruits. A serving of fresh or frozen cranberries contains fiber (1.8 g), Vitamin C (7 mg), Vitamin A (31.5 IU) and many other nutrients. All forms of cranberry are sodium free, fat free and cholesterol free.
When searching for new ways to use fresh or frozen cranberries, visit https://www.uscranberries.com/course/fresh-fruit/. The following are just a few fresh cranberry recipes:

About the Cranberry Marketing Committee
The Cranberry Marketing Committee (CMC) promotes the worldwide use and consumption of US-grown cranberries. The CMC was established as a Federal Marketing Order in 1962 to ensure a stable, orderly supply of good quality product. Follow @USCranberries on Facebook, Twitter and Instagram.