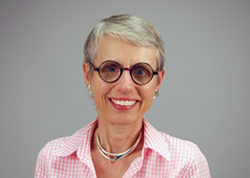 The arts have played an important, joyful role in my life. --Jane Pepper
PHILADELPHIA (PRWEB) January 21, 2019
The Articulate Foundation's new board chair is Jane G. Pepper. Ms. Pepper is the former President of the Pennsylvania Horticultural Society. She brings decades of high-level executive and non-profit leadership experience to a young organization dedicated to arts advocacy through media.
"We are delighted and honored that Jane has agreed to lead our organization," said Jim Cotter, Executive Director of The Articulate Foundation, a non-profit dedicated to cultivating understanding of and engagement with the arts in the U.S. and beyond. "She brings astonishing insight and experience. With her guidance, Articulate can become an ever-stronger presence in the national conversation on arts and culture."
Of her appointment, Ms. Pepper said, "The arts have played an important, joyful role in my life and I look forward to joining the board and staff members of the Articulate Foundation in bringing this joy into the lives of our many viewers across the country."
About Jane G. Pepper
In 2010, Ms. Pepper retired as the President of The Pennsylvania Horticultural Society (PHS), an organization she led for nearly 30 years. She is Chair of the Board of Longwood Gardens, a Trustee of the Natural Lands; and a Vice President of the Royal Horticultural Society, London.
A native of Edinburgh, Scotland, Ms. Pepper holds a Master's Degree in Public Horticulture Administration from the Longwood Graduate Program and a Bachelor's Degree in Plant Science, both from the University of Delaware. She earned an Associate of Science Degree in Landscape Design from Temple University.
About The Articulate Foundation
The mission of Articulate is to create a more informed and enlightened public — one challenged and invigorated by a deeper understanding and appreciation of ideas and culture. Engaging programming champions cultural expression and stimulates engagement with the arts:

For more information, visit articulateshow.org and contact Articulate Foundation Program Officer and Articulate with Jim Cotter Executive Producer, Tori Marchiony at tori(at)articulateshow.org.