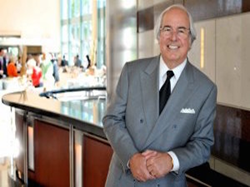 As an instructor at the FBI Academy for 43 years, I've taught two generations of FBI agents. What's amazing to me is how much easier crime is than when I did it. It's actually 4,000 times easier because I didn't have all of today's technology. So, technology absolutely breeds crime.
KNOXVILLE, Tenn. (PRWEB) December 09, 2019
System Improvements Inc. is pleased to share that Frank Abagnale will be a keynote speaker at the 2020 Global TapRooT® Summit, March 9-13, at Horseshoe Bay Resort, near Austin, Texas. Abagnale's transformation from one of the world's most notorious con men to an international cybersecurity expert trusted by the FBI has been mythologized in film and literature. The takeaways he'll share are, indeed, the real deal.
Most people were originally introduced to Abagnale through Steven Spielberg's blockbuster movie, Catch Me If You Can. The 2002 film depicts Abagnale's experiences as a con artist, starring Leonardo DiCaprio in the lead role and Tom Hanks as the FBI agent who pursues Abagnale. Between the ages of 16 and 21, Frank Abagnale convincingly posed as an airline pilot, an attorney, a teacher, a doctor, and cashed millions in fraudulent checks in 26 countries. By the time Abagnale turned 21, he was one of the world's most-wanted criminals.
After being arrested in France, Abagnale turned his life around, helping the FBI outthink con artists at frauds and scams. That was the condition of his early release: to work with the FBI.
Abagnale became one of the world's foremost authorities on document security, forgery, embezzlement, and identity theft. He also became an FBI Academy instructor, lecturing at the FBI's law enforcement training and research center and field offices.
Abagnale's contributions to the world of security are immeasurable. He has become a hero to hundreds of public and private sector organizations for his indispensable counsel and strategic insight on safeguarding information systems and combating cyberfraud.
In addition to his work with the FBI, Abagnale created an official check document used by more than 3,000 financial institutions; developed the ADP payroll check, used by thousands of companies; and designed security features for official documents, such as car titles, birth certificates, and prescription pads.
Abagnale also addresses C-suite executives on what they need to know about cybersecurity. More than 14,000 corporations and organizations have used his fraud prevention concepts and programs.
With an eye on the latest techniques developed by high-tech criminals to deceive and defraud, Abagnale leaves audiences with a deep understanding of today's evolving security landscape and, more importantly, a vision of how to make the world a safer place.
Attendees at the 2020 Global TapRooT® Summit will hear firsthand about Abagnale's life experiences and how they apply to the business world today.
Register for The Summit, now in its 32nd year. Learn from well-known, incredible keynote speakers; choose from multiple tracks and Pre-Summit courses designed to help companies improve performance. Attend the Summit and learn root cause analysis best practices across industries and from professionals and experts from around the world. Gain the career advantage that Summit attendance provides.
For details or inquiries about the TapRooT® System, call System Improvements Inc. at 865-539-2139, or contact us. Learn more about TapRooT® or purchase the books through the TapRooT® store.
About System Improvements Inc. – TapRooT®
Founded in 1988, TapRooT® solves hurdles every investigator faces. TapRooT® root cause analysis takes an investigator beyond his or her knowledge to think outside the box. Backed with extensive research in human performance, incident investigation, and root cause analysis, TapRooT® is a global leader in improved investigation effectiveness and productivity, stopping finger-pointing and blame, improving equipment reliability, and fixing operating problems.