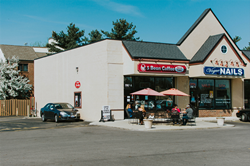 "Without Crimson Cup's help, I would never have been able to set up my shop as efficiently. Frankly, I am not sure if I would have stayed in business." – Tracy Heitmeyer, 5 Bean Coffee
COLUMBUS, Ohio (PRWEB) December 01, 2020
As 5 Bean Coffee in Reynoldsburg, Ohio celebrated its 12-year anniversary, owner Tracy Heitmeyer reflected on what it takes to run a thriving independent coffee shop, even through recession and pandemic.
"Our coffee and our customer service set us apart from other local shops," she said. "The coffee is terrific, and my staff is super friendly and fast!"
Heitmeyer gets coffee, coffee shop supplies and ongoing support from nationally acclaimed Columbus roaster Crimson Cup Coffee & Tea.
Among many national honors, the roaster won 2017 and 2020 Good Food Awards – which recognize the best tasting, most responsibly sourced coffees in the United States – and was recently named a finalist for a 2021 Good Food Award.
"We work hard to do really great coffee and tea fast and friendly," Heitmeyer said. "Look at our Yelp, Google and Facebook reviews. They always say the drinks are better than the corporate chains, more balanced and not bitter, and the prices are better."
Heitmeyer learned how to open and run a successful coffee shop through Crimson Cup's 7 Steps to Success, a coffee franchise alternative program that teaches entrepreneurs to run independent coffee houses in their local communities.
"Without Crimson Cup's help, I would never have been able to set up my shop as efficiently," she said. "Frankly, I am not sure if I would have stayed in business."
The award-winning roaster has helped over 150 independent coffee shops in 30 states flourish in good times and bad.
"It's been an honor and privilege to work with Tracy and her team the past 12 years," said Founder and President Greg Ubert. "As an entrepreneur myself, the best part of my job is helping other entrepreneurs start and grow unique coffee shops serving their local communities."
Even in during the global pandemic, Crimson Cup has helped entrepreneurs open over a dozen new coffee shops in 2020 – with more on the way.
Ubert's book, Seven Steps to Success: A Commonsense Guide to Succeed in Specialty Coffee, forms the foundation of the consulting program.
"We set up new business owners like Tracy for long-term success," Ubert said. "Just like a coffee shop franchise, our program covers all the bases – from writing a solid business plan and finding the perfect location to choosing the right equipment, training staff and marketing the shop.
"But, unlike franchises, we don't charge franchise fees or royalties – or even make customers sign long-term contracts. It's your shop, and we help you run it your way! Plus, our trainers and consultants stay with customers for the long term."
Heitmeyer said Crimson Cup taught her to focus on efficient drink making, costing things out, staff training and customer service.
"The staff training is priceless. My people know what they are doing and do it well," she said.
"A focus on customer service is a big part of our success," she added. "I can't say enough about how important it is to nurture a culture of cooperation and pride in the shop. For example, our staff of 16 knows our customers by name and by drink. It's a lot to learn at first, but it means so much!"
To stand out during the pandemic, 5 Bean Coffee transitioned to drive-thru-only service and focused on speed. "We quit doing pour overs or drinks that take a lot of time," Heitmeyer said. "We became efficient enough that we average under 1.5 minutes per car!"
Heitmeyer advises new coffee shop owners to prepare to get to work. "I worked 50 to 60 hours a week when we opened. You have to sweat the small stuff, especially at first. But my motto for a long time has been, 'What you concentrate on, you grow.' We concentrate on good relationships, terrific drinks and nurturing people's strengths."
After 12 years of success, Heitmeyer now works only a single weekly shift. "I enjoy the freedom from the daily grind," she said. "My husband and I travel a bit, and I get to spend time with friends and family at my leisure."
The shop also allows her to give back to the local community. 5 Bean Coffee funded ten $1,000 scholarships in 2020, in addition to donations to teachers and charities.
"I have a glorious life," she concluded. "The shop has provided for me financially and keeps my heart happy!"
5 Bean Coffee is open seven days a week at 2087 A State Route 256 in Reynoldsburg, Ohio. Follow its Facebook page for the latest news.
About Crimson Cup Coffee & Tea
Columbus, Ohio coffee roaster Crimson Cup Coffee & Tea is a 2020 Good Food Award winner, 2019 Golden Bean Champion for Small Franchise/Chain Roaster and Roast magazine's 2016 Macro Roaster of the Year. Since 1991, Crimson Cup has roasted sustainably sourced craft coffee for consumers and wholesale coffee customers.
Through its 7 Steps to Success coffee franchise alternative program, the company teaches entrepreneurs to run independent coffee houses in their local communities.
Crimson Cup also supports life-enriching projects through its Friend2Farmer™ initiatives, promoting the education, health, sustainability and economic growth of small-plot coffee farmers and their communities.
Crimson Cup coffee is available through over 350 independent coffee houses, grocers, college and universities, restaurants and food service operations across 30 states, Guam and Bangladesh. The company also operates several Crimson Cup Coffee Houses and a new Crimson retail flagship store. To learn more, visit crimsoncup.com, or follow the company on Facebook, Instagram and Twitter.