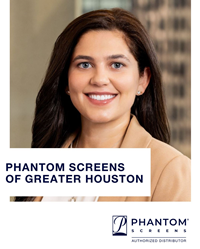 The company has provided me with all of the tools I need to succeed.
ABBOTSFORD, British Columbia (PRWEB) February 23, 2023
Award-winning Phantom Screens, North America's leading provider of premium retractable screens, is thrilled to announce the opening of its newest partnership, Phantom Screens of Greater Houston. This new authorized distributor marks an expansion to Phantom Screens' North American distributor network of over 130 partners.
The company is confident that Phantom Screens of Greater Houston will provide its customers with the same outstanding quality, exceptional customer service, and the best warranties in the industry that they have come to count on from Phantom Screens since 1992.
With a lifelong dream of running her own company one day, former insurance coverage attorney Autumn Coe was excited to leap into a partnership with Phantom Screens in Houston, Texas, after being introduced to the product by her father.
"My father had just built a new home, and he called me to say how much he loved his new Phantom Screens," says the former attorney. "He really pushed me to research the company."
After attending a Phantom Screens distributor conference, Coe was sold. Coe has leveraged all the hard work and lessons she'd learned from her career as an attorney to "grow something that is already very important to me."
"Phantom Screens' are the best … I truly believe that Phantom Screens is like a family," says Coe. "The company has provided me with all of the tools I need to succeed."
The Phantom Screens' reputation and broad customer base, combined with its market leading selection of innovative products, makes this newest partnership a perfect fit.
About Phantom Screens: In 1992, Dutch immigrant Syb Rypma developed an innovative idea for screens. He soon formed a partnership with Abbotsford's Rooke family, and together they rented space in a garage. Phantom Screens was born. Today, the award-winning company is recognized across North America for making homes better with market-leading retractable screen solutions for doors, windows, multi-panel systems, and outdoor spaces.
For more than 30 years, the company has placed a high value on its employees as part of a long-standing commitment to product excellence and customer satisfaction. For more information, visit http://www.phantomscreens.com.