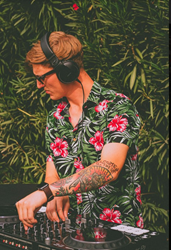 Instead of shying away from the world EDM makes you love yourself
LOS ANGELES (PRWEB) February 04, 2021
From the Desert to the Stage: Jerry Valentine
The conservative dusty desert of Phoenix, Arizona, is home to a variety of dichotomies. It is where Native and Hispanic cultures collide and where the modern world and development infuses itself in the ancient natural beauty of the desert and canyons. It is also where a fresh, young, "funky" man integrates his modern vibe into the conservative status quo. Arizona is not the place you would expect to find the hottest new house music sensation, yet this is where you will find him. Most likely on his Honda Monkey riding in the desert to clear his head or at a small local venue with friends just "vibing-out" with people who have the same love and passion for music that he has.
Jerry Valentine is a twenty-two-year-old veteran who found love for his community and himself through house music, an upbeat "four on the floor" sub-genre that has been keeping folks dancing and swinging in the clubs over the past few years.
Valentine grew-up always surrounded by music in a small Arizona town. Regional bands from across every genre spectrum visited the area, but rock and country music ruled the airwaves. Young Valentine was drawn to these live events. And whether the show featured country or heavy metal music, he admired the pure talent and courage it took for these performers to play in front of a live audience.
"Every significant moment in my life has had a musical influence; whether it was live music or just tossing my headphones on, I used music as an outlet to escape reality in positive and negative situations. It's the one constant thing through my life that has always been there and never changed," Valentine explained.
"These live performers and musicians all had a few things in common that drew me in," Valentine continued. "They all were loving what they did and changing people's lives one song at a time. To this day, I've never seen a more powerful influence," Valentine said. He wanted to feel that pure joy and excitement of sharing something he had created with the world, just as he had seen in the live performers from his childhood.
Though his love for music can be traced back to his formative years, his house music dedication is relatively recent. "There was no EDM (electronic music) influence," Valentine said. "I got into house music and EDM while I was overseas and have been hooked ever since."
Today, Valentine's new obsession with house music and his lifelong admiration of live performance have manifested into a promising career as a house music DJ. His passion is evident in each beat, and the world is taking notice of this young musician. "It's hard for me to describe my music in depth because it's a representation of myself, weird, funky, all over the place, and a whole lotta love," Valentine said.
Valentine is also receiving a "whole lotta love" from fans and industry professionals who are starting to take notice of this young man's talent. Valentine is currently attending a music production academy to further his knowledge in the field and become a better artist. He is also working toward releasing his first and highly anticipated EP.
Even with his busy schedule and the ever-changing world, Valentine finds time to create music for his new project. Where does he find his inspiration? "First thing I do is jam out to my favorite artists, to get in the zone. When I say 'jam out,' I mean the speaker is cranked to eleven, and I'm dancing around like there's no tomorrow. When I start working on a track, I start off trying to find the perfect kick drum. A good kick drum can define an entire house track, and it sets the mood as well. Once I find that perfect kick, I get into a flow with everything else. For me, it's one of those things where you forget about the world and let your mind run free. And when I finally look-up, I see that eight hours have passed in the blink of an eye."
These moments of solitude and "jamming-out" result in tracks that not only speak to the listeners about their own experiences but give us all a better understanding of Jerry as a person and specifically as an artist. "Self Love" is the one track that most accurately personifies the musician. "It's not my best track, but it is definitive on who I am as a person and an artist. It's a song about being lonely and feeling like there's no place for you in this world as if you're the only one who understands yourself -- an outsider if you will. Instead of shying away from the world, you learn to love yourself for who you are and become your own best friend because in the end, you will always have yourself, and that's a beautiful thing." Valentine admits.
Those who have gotten the chance to hear Valentine's music would agree that there is indeed a place for him and his music in this world. The attention Valentine is receiving for his tracks is leveraging him into a professional career as a musician. But how does the transition from sitting in the audience of these lives shows into performing in one? "I've always been somewhat of a shy person, so playing in front of a crowd is nerve-racking," Valentine said. "I counter those fears by playing music that I love and pretending like it is just me, and no one else is listening. Then I'll look up and see all the smiles and people dancing, and all that fear goes out the window."
With interest Valentine is generating in the music world, he will likely be playing with house music and EDM greats shortly. His dream is to play with industry legends such as Louis, the Child. "To me, they are the most creative artists I've ever heard. They have such a positive vibe they bring to their music, and it shows in their interactions with their fans. Truly an act to look-up to," he said.
Louis the Child's album, "Here and Now", has served as an inspiration for Valentine. "I believe albums truly show an artist's full vision of their music, and you get to hear their music in the order that they intend it to be listened to." Other favorites include Odeza's album, "A Moment Apart," and Gorillaz's "Demon Days."
From going to live events, listening to the greats, and creating new hits, Valentine's life is solidly rooted in the world of music. "I am completely engulfed," he said. But he still manages to find time for his trusty side-kick and closest friends. "I spend a lot of time with my buddy, Ron, the wiener dog. Over everything, though, I love spending time with my best friend and his family. They by far have the kindest heart, supportive, accepting people I have ever met, and just an absolute blast to be around."
You will be hearing and seeing a lot more about Jerry Valentine and his unique style of music. If you want to keep track of his career, follow him on social media.
Instagram- "@_JerryValentine"
Twitter- "@_JerryValentine"
SoundCloud- "Jerry Valentine"