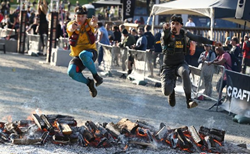 We want people to train hard and have fun
HAWLEYVILLE, Conn. (PRWEB) January 11, 2022
Technically speaking, no matter what type of shape you're in, if you have kids and you're a guy, you have a "dad bod." On a serious note however, more men find themselves having the typical dad bod shape of being soft in the middle and somewhat unfit since the outbreak of COVID-19.
The fallout from the Pandemic has ranged from over eating, to mental health issues and alcoholism. Much of this has stemmed from lockdowns, restricted movement, event cancellations, and perhaps a sense of isolation. To help people break out of this funk, YouTube influencers Mack and Damer of the OCR Kings are vowing to help people get back on track, and share their stories as they strive to achieve their fitness goals.
The OCR Kings' stated mission is helping others to succeed in their fitness journey, especially in running and Obstacle Course Racing. They vow to encourage and/or assist anyone, regardless of age or level of athleticism. "We want to show everybody that endurance events, obstacle courses, and adventure races are not just for the perfectly waxed and shaven golden elites," says Mack.
Through recent strategic partnerships with groups such as GoPro and Spartan Race, the duo has enjoyed increased success in viewership and gaining online followers, as they recreate the challenges and obstacles of actual OCR's, share the best methods of conquering them, race footage, training tips, gear reviews, and of course, quite a few laughs. "Like our motto, we want to encourage people to train hard and have fun," says Damer.
Now, to give the community an opportunity to express themselves about their fitness objectives, the trials of attempting to get back in shape, and struggles in overcoming adversity, the OCR Kings are asking viewers to send them videos of their stories. "Do you have a goal to lose the ole dad bod, a tale to tell of hardship, or of adventure on the trails or in OCR? We want to know! Send us your video. " says Damer.
The OCR Kings would like to feature the best stories on their YouTube channel, follow up with the participants, and perhaps help them virtually and/or in person. The videos can be action clips, a one on one video talking into the camera about past or current situations, or anything in between.
"And we are coed as well, so ladies grab your mom jeans and join us!" exclaims Mack.
To learn more about submitting video footage, logon to https://www.ocrkings.com/yourstory.
To view OCR Kings race footage, gear reviews, and training tips videos, visit https://www.youtube.com/ocrkings