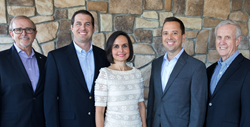 Clearwater, FL (PRWEB) October 31, 2018
Patients in need of dental implants in Clearwater, FL, are now welcome to receive a consultation, with or without a referral, from Drs. Matthew Burton, Keith Kiskaddon, Nolan Allen, Maria Hernandez or James Hayslett at Clearwater Dental. The skilled doctors offer a complete, transformative dental implant experience for individuals with tooth loss. They also offer bone grafting, restorations, tooth extractions and sedation dentistry services so patients do not have to visit another office to receive the complete care they need.
Clearwater Dental Associates has been providing patients in the Clearwater area with leading dental services for more than 30 years. Their team consists of highly skilled professionals who are experienced in performing a variety of procedures, including restorations, bone grafting and dental implant placement. Patients with tooth loss are encouraged to visit the practice and receive a consultation for dental implants in Clearwater, FL. Unlike some tooth replacement options, dental implants are valued for their long-term reliability and can fully restore dental function once healed. They also renew the appearance of the smile so patients can regain confidence in the way they look.
Dental implants are the only tooth replacement option that stimulates the jaw bone to prevent excessive degradation. After a tooth is lost, the bone beneath it no longer receives regular stimulation from the tooth roots. As a result, it begins to lose mass and changes shape over time. Dental implants can prevent this from happening, as the post of each implant is placed directly in the jaw and offers stimulation to the area just like natural tooth roots do. Individuals who want to maintain a healthy jaw bone mass after losing one or more teeth are encouraged to consider dental implants as their tooth replacement method of choice.
Drs. Burton, Kiskaddon, Allen, Hernandez and Hayslett warmly encourage new patients with tooth loss to consider receiving permanent dental implants in Clearwater, FL. To schedule a consultation, individuals are invited to call Clearwater Dental Associates during business hours.
About the Doctor
Clearwater Dental Associates is a team of leading dentists serving patients in the Clearwater area for over 30 years. Drs. Matthew Burton, Keith Kiskaddon, Nolan Allen, Maria Hernandez and James Hayslett offer comprehensive services, allowing patients to receive all of their dental care at one, state-of-the-art facility. A 17-seat practice with over 20 team members, Clearwater Dental Associates provides leading care including dental implants, Invisalign®, sedation and general dental care. A patient-centered practice, each doctor and team member is dedicated to patient comfort and education. To learn more about Clearwater Dental Associates or to schedule a personalized appointment, call 727-797-8800 or visit http://www.cdadental.com.