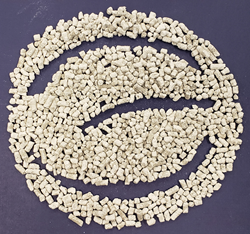 Kudos to the wind energy companies who didn't want their [decommissioned] blades in a landfill and had the foresight to express interest in us.
SWEETWATER, Texas (PRWEB) August 31, 2018
The time is upon us to develop and enact new ways to live and conduct business that use a circular, zero-waste model. Researchers and governments worldwide have taken to the task of finding workable solutions to our growing climate problems, and one solution will soon be ready for them in the American southwest of Sweetwater, Texas.
At Global Fiberglass Solutions, the large-scale manufacturing operation happening in Sweetwater has been a long time coming. Bothell, Washington-based GFS has conducted its own materials science research and development through Washington State University for many years, and the great strides the company has made in its composites fiberglass material processing for manufacturing method are now exemplified in Sweetwater. This plant is capable of processing large numbers of tons of fiberglass or carbon fiber composite material, and subsequently manufacturing a variety of products from said material.
Global Fiberglass Solutions' processed composite material is known as Ecopolycrete™ (EPC). GFS can not only manufacture a wide range of products from this material, but the company can customize its products to a client's specification or requirements. GFS' clients include other manufacturers, to whom the company can sell manufacturing-grade fibers and manufacturing pellets. Another major product is its EPC panels for building construction. All of GFS' products come from waste material – GFS is one company that is walking the walk of a circular economy. Now, GFS is bringing its selection of certified cradle-to-cradle composite infrastructure products to offer to the world.
The interest GFS has attracted from companies and governments around the world – with its magnitude and general enthusiasm to collaborate – astonished the company's management, but GFS' executives now believe the Sweetwater plant's production scale will continue GFS' positive impression on its global market. While they weren't expecting this scale of response, the interest is now making a major difference in the overall growth of the company.
One industry that saw the value in GFS' venture long before product production in Texas is one in which west Texas also takes pride – the wind energy industry. Major wind energy firms, both US-based and abroad, count GFS as a collaborative, innovative vendor. On this show of support, GFS CEO Don Lilly gives "kudos to the wind energy companies who didn't want their [decommissioned] blades in a landfill and had the foresight to express interest in us."
GFS business development teams from the US headquarters and the European regional office based in Hamburg, Germany will be exhibiting with the company's product offerings at the WindEnergy Hamburg Expo this September 25-28. As a region with big commitments to carbon footprint reduction, Europe's composites-utilizing companies have kept their eyes on GFS for some time as the company has grown.
Circular products like pellets, panels and much more show the result of GFS' continued perseverance to meet its goal: to make a difference in our world and natural environment. While places like Germany, Denmark and China may get hype for their attention to climate problems, it's west Texas' time to show off its tangible solution.
For further information visit http://www.global-fiberglass.com.