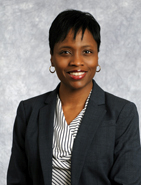 Cleveland, Ohio (PRWEB) November 14, 2014
In CHAMPS Patient Experience's recent blog post, The Front Desk Experience Sets the Tone, Toya Gorley shares her thoughts on the topic.
Gorley recently went to a doctor's appointment and while waiting in the lobby, had the opportunity to observe the young lady at the front desk. Gorley was so impressed by her and the front desk experience she created for patients! She greeted everyone with a smile and often called them by name, while simultaneously juggling phone calls and instructions from her coworkers. She was obviously busy, managing many tasks, but the whole time she displayed positive body language and interacted with patients and her coworkers in a pleasant and upbeat way.
Even when handling a "sticky" situation, she was professional and composed. Here's how it went: While she was checking Gorley in, a patient from the end of the line jumped ahead to ask a question. She reacted by saying, "Would you mind returning to the end of the line, sir? I am speaking with this patient now, and we really care about patient privacy here. I know your question is important. I will be with you as soon as I can or I can call my manager to help if you are unable to wait." In her head, Gorley was saying to herself, "YAY! What a perfect way to deal with that situation."
It struck her that this young lady saw her job as more than checking in patients and collecting co-pays. She seemed to really understand and embrace the front desk experience and the importance of making a great first impression. This young lady reminded Gorley of the importance of front desk employees. They set the tone for the entire visit. They can make patients feel welcomed and comfortable while giving the impression of a well-oiled practice or they can increase anxieties, make people mad and give the impression that your practice is uncaring and unorganized.
To avoid the latter, it's important to invest in creating an optimal front desk experience:

Define this job in terms of purpose, not tasks, so this person understands the importance of their role.
Make sure this person has the skills to connect with patients and handle difficult situations gracefully.
Hold this person in high regard and treat them as a valued member of your team.
Gorley closes her blog by asking readers to share their thoughts about the importance of the front desk experience.
To learn more about the CHAMPS Patient Experience blog, PX Perspective, visit http://www.pxperspective.com.
###
In partnership with Santalucia Group, CHAMPS Patient Experience offers a variety of services to enhance the patient experience. Led by Carol Santalucia, a recognized leader in patient experience with more than 30 years of expertise, CHAMPS offers outcomes-based services designed to create an optimal patient experience. We believe providing an optimal patient experience not only makes sense intuitively but also leads to improved healthcare outcomes, increased patient loyalty and an enhanced financial position for our clients. To learn more about us and our services, visit http://www.champspatientexperience.com.