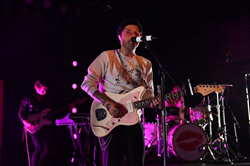 We are huge fans of catching full length live concerts on TV. Usually an act only gets to play one song when making a TV appearance. So, it's an honor and an absolute pleasure to be able to bring a headline set to such a legendary broadcast as Front and Center.
NEW YORK (PRWEB) August 08, 2019
Front and Center, the critically acclaimed concert series that kicked off its ninth season in July, announced that platinum-selling alt-pop trio lovelytheband is featured in its next episode on public television (check local listings).
lovelytheband skyrocketed in 2018 to new levels. "broken," the single off their debut album finding it hard to smile (RED MUSIC), reached #1 on the Adult Top 40 and Alternative radio charts as well as reached the top 15 on Top 40 radio. The track amassed over 2 billion in total radio audience. The trio was filmed at SIR Studios in Los Angeles and on the Front and Center episode they perform their hit single "broken" as well as "these are my friends" and their current single, "maybe, i'm afraid." The trailer for this episode can be viewed here.
"We are huge fans of catching full length live concerts on TV," stated lovelytheband's Mitchy Collins. "Usually an act only gets to play one song when making a TV appearance. So, it's an honor and an absolute pleasure to be able to bring a headline set to such a legendary broadcast as Front and Center."
Most recently, the band released a 3-track bundle of their fan favorite hits entitled live from london, studio two, which was recorded at the legendary Abbey Roads studio. The bundle includes stripped down versions of their singles "broken," "maybe, i'm afraid," and "these are my friends" with string instrumentalists. The three-track bundle is available now across all digital streaming platforms here. Along with the bundle, the trio released the music video for "broken (live from london, studio two)," which can be viewed here, and they are set to embark on their first-ever European headlining tour this November.
In addition to lovelytheband's success in the music industry, the trio will be making their big screen debut in This Is The Year, a film by David Henrie (Wizards of Waverly Place, Paul Blart: Mall Cop 2). The directorial debut by the successful actor Henrie takes the audience through a millennial coming-of-age story about five teenagers who decide to leave their local world behind and take one last road trip before graduation to enjoy the amazing Front and Center music festival, with their favorite band – lovelytheband – where they learn more than music and discover a lot about themselves.
Season nine of Front and Center features an all new line-up of Grammy Award winners, industry legends, emerging artists, and chart toppers. The new episodes include intimate performances from Hozier, Gary Clark Jr., Carly Pearce, Brett Young, Robby Krieger and Friends, Chris Janson, The Head and the Heart, and Santana IV.
Full episodes will be streaming online at: https://www.pbs.org/show/front-and-center/.
Front and Center is a production of Front and Center Entertainment, LLC in association with WLIW, LLC for WNET. The series is distributed by American Public Television.
Videos and more information about Front and Center are available at http://www.frontandcenter.com and http://www.youtube.com/frontandcentertv.
About Front and Center Entertainment
Front and Center Entertainment, LLC produces the popular music performance television series Front and Center as well as the groundbreaking talk show Speakeasy and the monthly series MTV Live: Setlist. Since 2012 Front and Center has presented an eclectic mix of Grammy, Country Music Association, American Music and Academy of Country Music Award winners, rock icons and multi-platinum sellers including Keith Urban, Steven Tyler, Cyndi Lauper, Counting Crows, Rob Thomas, and The Avett Brothers. Speakeasy, which began airing in January 2015, features an iconic talent chatting intimately with an interviewer of their choice. Included are conversations with Roger Waters and Bill Weir, David Crosby and Wynton Marsalis, Sting and Shaggy, Lenny Kravitz and Sean Lennon, and Robbie Robertson with Warren Zanes. MTV Live: Setlist spotlights rising artists spanning multiple genres including St. Paul & the Broken Bones, Dua Lipa, and Muna.
About lovelytheband
lovelytheband solidified their place in alt music history when they broke Billboard's Alternative Songs Longevity Record with a total of 75 weeks on the chart, nine weeks at No. 1 and over 278 million streams world-wide with their debut hit single, "broken." The band's current single "maybe, i'm afraid" hit the Top 15 on the Alternative Songs Chart, and the music video shares a powerful LGBTQ message for which they partnered with the "Beyond I Do" campaign to help promote acceptance, empathy and understanding for the millions of Americans who can be kicked out of their homes, fired from their jobs or denied services for simply living as their authentic selves. lovelytheband won a 2019 iHeartRadio Music Award for "Best New Alt. Rock Artist," landed two 2019 Billboard Music Award nominations for "Top Rock Artist" and "Top Rock Song," and most recently been nominated for two 2019 Teen Choice Award for Choice Rock Artist and Choice Rock Song for "These Are My Friends." The band just wrapped up their North American headlining tour entitled "finding it hard to smile" with support from Flora Cash and Jagwar Twins, and are set to headline their first-ever European tour this fall. The trio performed on American Idol's All-Star Duets episode, and most recently on Good Morning America.
About WNET
WNET is America's flagship PBS station: parent company of New York's THIRTEEN and WLIW21 and operator of NJTV, the statewide public media network in New Jersey. Through its new ALL ARTS multi-platform initiative, its broadcast channels, three cable services (THIRTEEN PBSKids, Create and World) and online streaming sites, WNET brings quality arts, education and public affairs programming to more than five million viewers each month. WNET produces and presents a wide range of acclaimed PBS series, including Nature, Great Performances, American Masters, PBS NewsHour Weekend, and the nightly interview program Amanpour and Company. In addition, WNET produces numerous documentaries, children's programs, and local news and cultural offerings, as well as multi-platform initiatives addressing poverty and climate. Through THIRTEEN Passport and WLIW Passport, station members can stream new and archival THIRTEEN, WLIW and PBS programming anytime, anywhere.
About APT
American Public Television (APT) is the leading syndicator of high-quality, top-rated programming to the nation's public television stations. Founded in 1961, APT distributes 250 new program titles per year and one-fourth of the top 100 highest-rated public television titles in the U.S. APT's diverse catalog includes prominent documentaries, performance, news and current affairs programs, dramas, how-to programs, children's series and classic movies. America's Test Kitchen From Cook's Illustrated, Cook's Country, AfroPoP, Rick Steves' Europe, Christopher Kimball's Milk Street Television, Front and Center, Doc Martin, Nightly Business Report, Midsomer Murders, Lidia's Kitchen, Kevin Belton's New Orleans Kitchen, Simply Ming, The Best of the Joy of Painting with Bob Ross, and P. Allen Smith's Garden Home are a sampling of APT's programs, considered some of the most popular on public television. APT also licenses programs internationally through its APT Worldwide service and distributes Create®TV — featuring the best of public television's lifestyle programming — and WORLD™, public television's premier news, science and documentary channel. To find out more about APT's programs and services, visit APTonline.org.